BoomBox NEW Album "downriverelectric" out NOW
Submitted by mike on Sat, 07/17/2010 - 07:47
Once again, the otherwise understated area of Muscle Shoals, Alabama finds itself in the limelight. Recognized for inspiring legendary recordings from the likes of Aretha Franklin, Lynyrd Skynyrd, Bob Dylan, Paul Simon, The Rolling Stones and The Allman Brothers, Muscle Shoals has played host to some of the most creative music in popular culture. The town is so legendary that even current platinum selling artists such as The Black Keys have recently have made it a point to record recent releases there.  This leaves no doubt that a musical revival is imminent and the locally bred electronic duo BoomBox is leading the charge.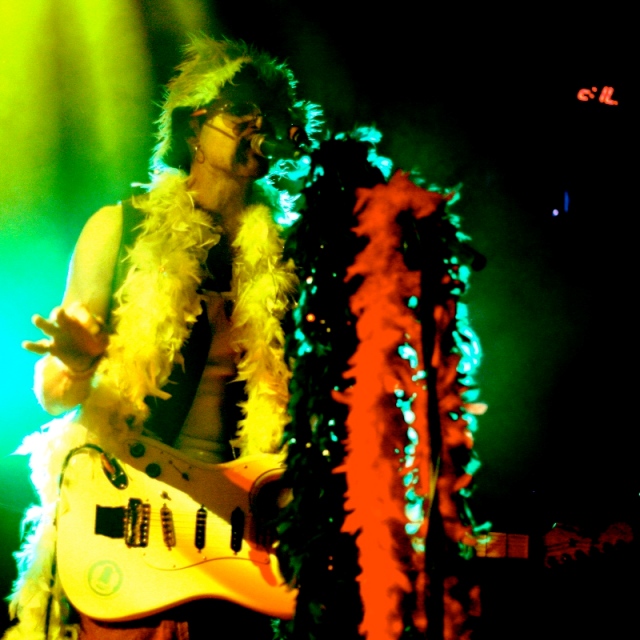 "I do believe that music is genetic—it's a family thing. Whatever was magical about Muscle Shoals is still there." Dan Auerbach, The Black Keys
BoomBox was born in Muscle Shoals, AL. Not just figuratively, but literally. The duo grew up just a few short blocks from the famous "Muscle Shoals Sound Studio" where legend claims the most famous recordings in history have been inspired. As luck would have it, the two met in 2004 during a recording session, and haven't looked back since. In recent years, BoomBox, in addition to the likes of the Drive By Truckers, have become one of a few acts that are being recognized for their unique take on "the Shoal's" musical history.
Featuring Producer/Engineer/Drummer Russ Randolph and Producer/Vocalist/Instrumentalist Zion Rock Godchaux, BoomBox draws their inspiration from the roots of the region including elements of Motown, Folk and Vintage Rock while infusing modern elements of IDM, Disco and Funky House. Add layers of raw guitar riffs, catchy songwriting and signature psychedelia poetry lyrics and the result is like nothing else on the scene today.
As thousands of units of their debut release Visions of Backbeat continue to move and tracks like Stereo hit dancefloors worldwide, BoomBox releases their sophomore album, downriverelectric on Wednesday, June 30, 2010.
While many electronic acts typically record within digital production formats, it happens the very same organic setting that was the impetus in the create the movement of BoomBox ultimately became the final inspirations for the completion of downriverelectric. Through tapping some of the same vintage gear of their Muscle Shoal predecessors, the duo pays respect to the musical memoirs of Muscle Shoals' as well as the rhythms of the Tennessee River with a different, yet familiar, flavor.
From new cuts such as Dungeons and Watergun to live favorites Headchange and Mr. Boogieman, downriverelectric deliberately weaves a variety of dance frenzy beats filled with catchy songwriting and soul shuttering lowend.  While the album took a bit longer than expected, the final product foretells yet another groundbreaking release from the area worth recognition.  What's yet to come from the Muscle Shoals music scene is hard to tell, but one thing is for certain, with acts like BoomBox infusing the rich lore of the area into their current sound, history is guaranteed to repeat itself.
To celebrate the release of downriverelectric the group currently has 2 tracks for free download at www.music.thisisboombox.com and on Wednesday, June 30 will make the first 1000 downloads of entire album available free!  Listen to Boombox's 'Watergun' {play}images/mp3/watergun.mp3{/play}


downriverlectric track list:
1. dungeons
2. headchange
3. showboat
4. cool aide smile
5. watergun
6. round & round
7. shakedown street
8. mr boogie man
9. watergun (reprise)