Bootsy Collins at the Boulder Theater | 06.06.11
Submitted by mike on Mon, 04/18/2011 - 16:41
Westword & Z2 Entertainment is proud to present Bootsy Collins at the Boulder Theater on Monday, June 6th, 2011.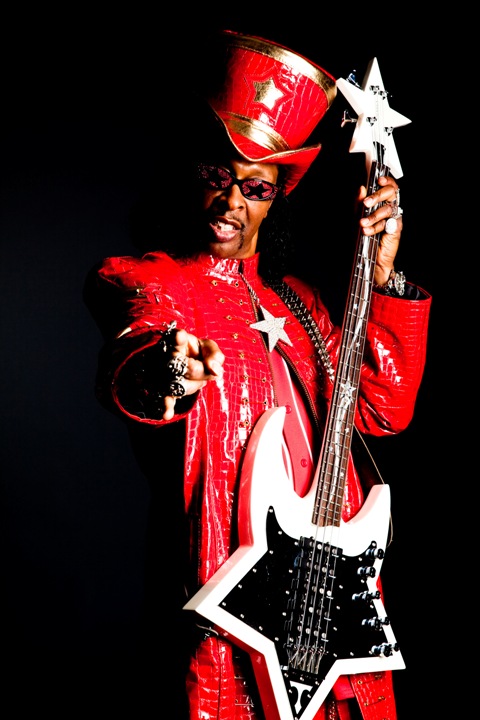 While supplies last, CDs of Bootsy Collins' new album 'Tha Funk Capital of the World' (out 4/26) will be available with eye-popping holographic 3D album art designed by Roy Koch, Mascot Records' in-house artist. Bootsy says, "The album cover art work breathes like it is a living being/city... it's alive." For a preview of the physical packaging, check out an animated .GIF image here.
'Tha Funk Capital of the World' will also be available in a 2-LP transparent blue vinyl and is now available for pre-order on Amazon.
"Don't Take My Funk," featuring Catfish Collins and Bobby Womack, is now available on all digital retailers (links below). Rolling Stone called it "effortlessly groovy," listen here.
Catch Bootsy Collins live at the Boulder Theater performing from his latest album, 'Tha Funk Capital of the World' featuring fellow P-Funkers George Clinton and Bernie Worrell, along with an all-star lineup of musicians and cultural luminaries including rappers Snoop Dogg, Chuck D, and Ice Cube; actor Samuel L. Jackson; banjo phenom Bela Fleck; the Rev. Al Sharpton; scholar Dr. Cornel West; guitarist Buckethead, and more.
--
Tickets are on sale at Boulder Theater Box Office. Call (303) 786-7030 for tickets by phone.
Tickets are also available through our website @ www.bouldertheater.com.
Tickets are On Sale Friday April 15th!
$33.50 GA