BRAIDS Announce North American 2011 Winter Tour
BRAIDS was formed by four best friends in their last year of High School in Calgary, Alberta. Convincing one another to skip university, they stayed in the garage all year and practiced obsessively, even while their fingers froze during the cold prairie winters. Then, at only 18 years old, they took the bold step of moving across the country together to Montreal, where they began crafting their self recorded/self produced debut album Native Speaker.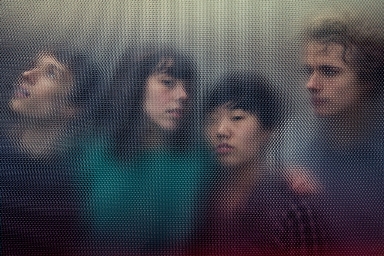 Oscillating between density and spaciousness, BRAIDS' sound is not easy to define. The four members construct music which is ample and rolling, perhaps alluding to the landscapes of their youth, but filled with radical texture and startling immediacy, an influence of their more recent surroundings. Delicate layering gives their experimental pop epics just enough breath to playfully explore the depth of ambient melody. Though BRAIDS dives into moments of deep obscurity and sonic experimentation, there remains embedded within the music the hypnosis of an unforgettable pop tune.
Native Speaker, is the accumulation of months of meticulous craft-work to properly capture the band's entrancing live performance. The albums' songs were tested and shaped through numerous performances and lyrical massages, resulting in work that is brilliant in detail and structure. Averaging over 6 minutes and never coming in under 4, the tracks on Native Speakermaintain a deep seeded focus.
BRAIDS has an unusually collaborative dynamic, generating all of their sweeping sounds live in a synergistic maelstrom. Even their name, BRAIDS, evokes a feeling of something continuous and progressive, yet lush and intertwining. It implies the interweaving of all four members' musical ideas, favoring collective and equal input.
On January 18, 2011 BRAIDS is putting forth their debut album Native Speaker, a reflection of coming of age for the four intricately linked musicians. It captures a period of innocence and a period of change, yet comes off as strikingly mature beyond their years. Most importantly, it displays a yearning and striving to break through, an ambitious debut for a young band just getting started.
BRAIDS NORTH AMERICAN TOUR DATES
11-30 New York, NY - Knitting Factory ^
12-01 New York, NY - Bowery Ballroom ^
02-04 Dallas, TX - The Nightmare *
02-05 Austin, TX - The Mohawk *
02-07 Atlanta, GA - The Masquerade *
02-08 Tallahassee, FL - Club Downunder *
02-09 Columbia, SC - New Brookland Tavern *
02-10 Durham, NC - Duke Coffeehouse (Duke University) *
02-11 Washington, DC - Rock and Roll Hotel *
02-12 Brooklyn, NY - Knitting Factory *
02-13 Philadelphia, PA - Kung Fu Necktie *
02-16 New York, NY - Mercury Lounge *
02-17 Allston, MA - Brighton Music Hall *
02-18 Montreal, Quebec - Il Motore *
02-21 Columbus, OH - Skully's Music Diner *
02-22 Urbana, IL - The Canopy *
02-23 Iowa City, IA - Gabe's *
02-24 Minneapolis, MN - 7th Street Entry *
02-25 Madison, WI - Der Rathskellar (University of Wisconsin) *
02-26 Chicago, IL - Subterranean *
03-01 Seattle, WA - Chop Suey *
03-02 Portland, OR - Holocene *
03-04 San Francisco, CA - Rickshaw Stop *
03-05 Los Angeles, CA - Troubadour *
^ with the Radio Dept. * with Baths, Star Slinger