BRITISH SINGER-SONGWRITER BOBBY LONG RETURNS TO U.S. FOR 2010 TOUR
Submitted by mike on Fri, 03/12/2010 - 03:59
British singer-songwriter Bobby Long returns to American shores this week, kicking off a tour that will include his first appearances at the annual South By Southwest Conference (SxSW) in Austin, Texas. Long, whose 2009 "Dangerous Summer" tour of the U.S. and Canada comprised more than 100 shows and was extended through December, will begin his 2010 U.S. run at World Café Live in Philadelphia on Saturday, March 13. Following the string of his own shows, Long will join popular Philadelphia indie band matt pond PA (mppa) for 16 shows during May in support their new album The Dark Leaves.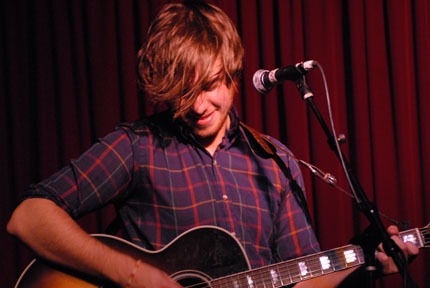 Bobby Long will also be the special guest on WXPN Radio's weekly Free@Noon broadcast, live from Philadelphia this Friday, March 12. Last fall, WXPN began playing cuts from Long's DIRTY POND SONGS CD-a collection he recorded in his London bedroom to be available exclusively at his shows-and made him their "World Café Next" artist of the week in December. The broadcast will be streamed live at www.xpn.org and www.npr.org.
Long is also set for several performances at SxSW next week: Thursday, March 18 at 11PM at the Hilton Garden Inn Creekside as part of "The Bedford at SxSW" event, Friday, March 19 at 2PM at Bug Music's event at the Continental Club and again at 7PM at the SxSW Second Play Stage at the Hilton Hotel Austin. His final SxSW appearance will take place on Sunday, March 21 at 1PM at the UHCU Headliner Stage. Other highlights of the spring tour will be appearances at the eclectic Bamboozle Festival on both coasts, the March 28 event at Anaheim Stadium in California and the May 1 event at the Meadowlands in East Rutherford, New Jersey.
Long started the year with three weeks of shows in Europe, playing several countries for the first time.  He is currently recording his much-anticipated debut studio album for release later in the year with producer Liam Watson (The White Stripes' "Elephant") at the helm. "I'm feeling really good about it all," he says.  "I'm really pleased with the time in the studio and to have had an opportunity to work with amazing musicians and with a producer like Liam Watson.  Everyone worked together, and I really feel like we have put together a great sound and something that will make people stand up and listen. I've recorded around 18 songs and now just have to pick the ones for the album."
He has already sold more than 10,000 copies of the 10-song collection of original material called DIRTY POND SONGS.  "Left to Lie" and "The Bounty of Mary Jane" from that CD are available for download from iTunes and other digital outlets.  "Let Me Sign," a song he co-wrote with Marcus Foster, is part of the American Music Award-winning soundtrack of the blockbuster film "Twilight."  He has also compiled a new DANGEROUS SUMMER TOUR CD of live performances from his marathon 2009 tour, which will be available for sale at the upcoming shows.  Included in that collection are some of his newer compositions, "The Borough Mill," "In the Frost," "My Darling Bell" and "Girl From the Keys," among them.
Fans first discovered his compelling brand of acoustic music via the film, YouTube and his continually-updated MySpace page (www.myspace.com/musicbobbylong), which is now closing in on two million page views.  Music critics and selected radio programmers have jumped on the Long bandwagon early, praising both his songwriting and his style.
BOBBY LONG 2010 U.S. TOUR:
March 12--13-World Café Live Upstairs, Philadelphia; March 15-Mercury Lounge, New York City; March 16-Poor David's Pub, Dallas; SxSW Music Conference, Austin, TX:  March 18, at 11PM, Hilton Garden Inn Creekside) and March 19 at 2PM, Continental Club, Austin, and 7PM, Hilton Hotel Austin; March 22-Hideaway on Dunvale, Houston, TX; 25-Café Congress, Tucson; 28-The Bamboozle Festival, Anaheim Stadium; April 28-Jammin' Java, Vienna, VA; and May 1-The Bamboozle Festival, Meadowlands, East Rutherford, NJ.
Dates supporting matt pond PA are:
May 5-Chameleon Club, Lancaster, PA; 6-Allen Street Stage, Penn State University, State College, PA; 7-Mac's Bar, Lansing, MI; 9-The House Café, DeKalb, IL; 10-Mad Planet, Milwaukee, WI; 11-Slowdown, Omaha; 12-Fox Theater, Boulder, CO; 14-Bottleneck, Lawrence, KS; 15-Mojo's, Columbia, MO; 17-Hi Tone Café, Memphis; 18-Square Room, Knoxville; 20-40 Watt, Athens, GA; 21-Village Tavern, Mt. Pleasant, SC; 22-Local 506, Chapel Hill, NC; 24-The Southern, Charlottesville, VA and 25-Otto Bar, Baltimore, MD.
Look for more U. S. dates to be announced soon.