Bucky Pizzarelli With The Les Paul Trio
Submitted by press on Thu, 07/02/2009 - 04:24
John 'Bucky' Pizzarelli (1926) began his professional career in 1943 at 17 years old playing in the Vaughn Monroe dance band. He toured and recorded with Monroe through 1951, and in 1952 he joined NBC as a staff musician. At NBC, for many years, he played in the Doc Severinson Band on the Tonight Show. He also toured and recorded with Benny Goodman into the 1980's.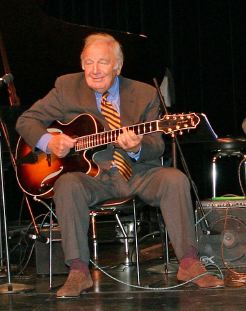 In New York, Pizzarelli worked mainly as a freelance musician in the studios and he appeared on many recordings as part of the rhythm section. One of the era's most solid rhythm players, Pizzarelli was in high demand to provide propulsion and background for other musicians.
His recordings as leader began to appear in the 1970's with recordings like Green Guitar Blues. On this recording Pizzarelli established a pattern he repeated throughout his career. That is, playing and recording some of the great historic guitar compositions from the 1930's. On this recording he pays homage to Carl Kress and Dick McDonough by including Chicken A La Swing. A few years later he paid tribute to these two guitarists again on his Guitar Quintet LP. On April Kisses from 1999, he includes original music by Carl Kress, George Van Eps and George M. Smith.
Bucky Pizzarelli has carried forward other jazz guitar traditions as well.
His extraordinary skill as a rhythm player places him in the company of the great rhythm players like Freddie Greene and Barry Galbraith. And he has brought forward the great chord solo tradition begun by George Van Eps and Dick McDonough. Like George Van Eps, Bucky Pizzarelli adopted the seven-string electric guitar (in fact, playing the Gretsch Van Eps model for many years). And, although this guitar is very popular today, for many years, Bucky Pizzarelli, was considered the only guitarist next to George Van Eps, to play the seven-string electric guitar exclusively.
Along with being a dedicated preservationist of the old guitar music and the early styles of playing, Bucky Pizzarelli has also developed a very personal style that sets him apart. Recordings like Love Songs and NY Swing present a picture of the complete jazz musician and guitarist who moves effortlessly from the daunting format of the solo guitar to playing solid, swinging rhythm and single string solos in an ensemble setting.
IRIDIUM JAZZ CLUB
1650 BROADWAY (CORNER OF 51ST)
NEW YORK, NY 10023
RESERVATIONS: 212-582-2121
HTTP://WWW.IRIDIUMJAZZCLUB.COM/
The Iridium Jazz Club Is Pleased To Present:
BUCKY PIZZARELLI WITH THE LES PAUL TRIO MONDAY, JULY 6TH Sets at 8 & 10PM   JOHN COLIANNI – PIANO - LOU PALLO – GUITAR, NICKI PARROTT - BASS