The Builders & The Butchers: 'Lullaby' Song Premiere
Submitted by mike on Tue, 01/11/2011 - 03:14
Today The Builders and the Butchers premiered "Lullaby," the first song off their upcoming third album Dead Reckoning, on My Old Kentucky Blog. The urgent, ominous track can now be heard and downloaded here. Dead Reckoning will be released February 22nd, 2011 on Badman Recording Co.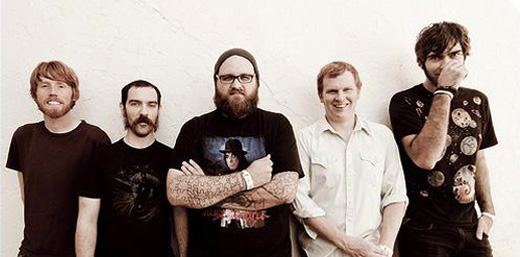 The Builders will also head out on tour in support of friends Murder By Death early next month. The month-long string of dates begins February 1st at Cosmic Charlie's in Lexington, KY, and wraps up February 20th at The Waiting Room in Omaha, NE, and includes a hometown album release show February 15th at the Wonder Ballroom in Portland, OR.
Dead Reckoning is a bold and dynamic set of 12 tracks, a raucous musical blend that culls from folk, back porch bluegrass, and unplugged blues. Led by Ryan Sollee's fervent vocals and the big drum sound of the deconstructed kit split between Brandon Hafer and Ray Rude, the album ranges from pounding anti-anthems to more subdued, haunting tracks to gospel-tinged laments. Sollee, writing against the backdrop of the recent downturn, found himself relating to and drawing inspiration from American music of the 1930s. The timeless songs on Dead Reckoning follow suit, weaving gothic stories with common threads like absolute good and evil, addiction, religion, and the father and the son. The album was recorded predominantly live over eight days in Portland with the help of Adam Selzer (The Decemberists, M. Ward, She & Him) and engineer Dylan Magierek (Mark Kozelek, Starfucker, Thao Nguyen), in effort to finally capture the unbridled energy of The Builders' renowned live show.
--
The Builders and the Butchers tour dates (all in support of Murder By Death):
FEB. 1 LEXINGTON, KY COSMIC CHARLIE'S
FEB. 2 MEMPHIS, TN HI-TONE CAFÉ
FEB. 3 NEW ORLEANS, LA THE PARISH
FEB. 4 DENTON, TX RUBBER GLOVES
FEB. 5 AUSTIN, TX RED 7
FEB. 7 ALBUQUERQUE, NM LOW SPIRITS BAR & STAGE
FEB. 8 TUSCON, AZ PLUSH
FEB. 9 SAN DIEGO, CA THE CASBAH
FEB. 10 COSTA MESA, CA DETROIT BAR
FEB. 11 LOS ANGELES, CA ECHOPLEX
FEB. 12 SAN FRANCISCO, CA BOTTOM OF THE HILL
FEB. 13 SACRAMENTO, CA HARLOW'S NIGHT CLUB
FEB. 15 PORTLAND, OR WONDER BALLROOM
FEB. 16 SEATTLE, WA TRACTOR TAVERN
FEB. 17 GARDEN CITY, ID VISUAL COLLECTIVE ARTS
FEB. 18 SALT LAKE CITY, UT BAR DELUXE
FEB. 19 DENVER, CO BLUEBIRD THEATER
FEB. 20 OMAHA, NE THE WAITING ROOM