California '66 Revue tour brings Electric Prunes, Love & Moby Grape
Submitted by mike on Mon, 07/20/2009 - 22:40
Three premiere bands of the Los Angeles psychedelic era of the late '60s will join forces August 4-18, 2009 for the California '66 Revue tour. The Electric Prunes, Love and, for the April 12-18 dates, Jerry Miller from Moby Grape will bring the spirit of Sunset Strip and San Francisco in the late '60s up the East Coast and into Canada and the Midwest.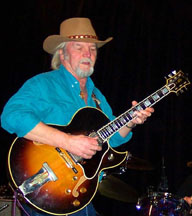 Miller joined the tour when Sky "Sunlight" Saxon of The Seeds, originally booked, passed away unexpectedly on June 25. The tour will continue in Saxon's memory.
According to promoter Patrick Hand, "A major reason I'm promoting this tour is that the Electric Prunes are the best rock band in the world right now. Just listen to 'Feedback.' They sound like 20-year-olds. The Electric Prunes are the only band from the 1960s who are putting out better music now than then.  And the music they put out then was pretty damn good."
The current incarnation of Love is led by Johnny Echols, lead guitarist in the classic 1966-68 lineup, and will be backed by Baby Lemonade, the latter-day psychedelic L.A. band that accompanied Love founding member Arthur Lee from 1993 until his 2005 death. Jerry Miller will perform songs from his tenure with Moby Grape as well as other eras of his 50-year recording career.
The tour begins in August 4 at Johnny Brenda's in Philadelphia and ends on August 18 at the Birchmere outside Washington, D.C. Other tour cities include New York, Chicago, Toronto, Montreal, Cleveland, Detroit, Philadelphia and Pittsburgh.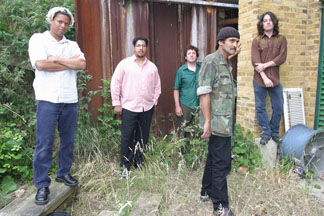 "We wanted to do a few shows in intimate venues to see if there is still interest in this genre, and we've already passed that test," adds Hand. "If the public is as enthusiastic in attending the shows as the clubs have been in booking, then I have no doubt we'll be back on the road again, in the West Coast and the U.K."
 

About the artists:

• The Electric Prunes: In 1966, a sonic blast of feedback, tremolo and fuzz emerged from the confines of a Los Angeles garage. The Electric Prunes' electrifying single "I Had Too Much To Dream (Last Night)," widely recognized as one of the first psychedelic hit records, heralded a transition period in popular music. Their combination of psychedelia and bluesy grit offered a unique auditory experience that was a far cry from the pop music popular at the time. A cut from the band's Mass in F Minor concept album was selected for the soundtrack of the classic road movie Easy Rider. Unlike many of their contemporaries, the Electric Prunes were capable of reproducing their distinctive recording sounds in live performances. They continue to perform across the world, stewarded by founding members Mike Tulin and James Lowe.
 
• Love: Led by the late singer/songwriter/guitarist Arthur Lee, this interracial Los Angeles band was among the most influential and original of its era. Love's creative impact on other artists from the mid-'60s right up to this very day outweighs the commercial success of their brief but highly productive heyday. The 1967 epic Forever Changes, a suite of songs using acoustic guitars, strings and horns recorded while the band was falling apart as the result of various abuses, is widely cited as one of rock's all-time greatest albums. Since Arthur Lee's death in 2005, the legacy of Love has been carried forward by its founding guitarist/songwriter Johnny Echols along with Baby Lemonade.
 
• Jerry Miller, who Eric Clapton is reported to have called the "best guitar player in the world," is best known as the lead guitarist in late '60s San Francisco three-guitarist band Moby Grape, which signed to Columbia and recorded four albums between 1966-69. He co-wrote with member Don Stevenson the classics "Hey Grandma" (covered by the Move) and "Murder in My Heart for the Judge" (covered by Three Dog Night and Lee Michaels.) Earlier in his career, Miller played with Bobby Fuller in his predecessor band to the Bobby Fuller Four. Following the Grape's 1970 dissolution, Miller joined two Grape bandmates in the Rhythm Dukes, and later shared the stage with Jimi Hendrix, The Doors, Eric Clapton, Taj Mahal and Robert Plant. Originally from the Pacific Northwest, Miller is once again based in his hometown of Tacoma.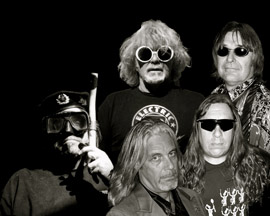 CALIFORNIA '66 REVUE DATES
Tuesday, August 4 PHILADELPHIA, PA Johnny Brenda's
Wednesday, August 5 HOBOKEN, NJ  Maxwell's
Thursday, August 6 FAIRFIELD,CT Quick Center; benefit for WPKN-FM radio (with guests the Blues Magoos)
Friday, August 7  CAMBRIDGE, MA  Middle East
Saturday, August 8 MONTREAL, QU  Theater Plaza; affiliated with the "Teenbeat Takeover Woolly Weekend."
Sunday, August 9 NEW YORK, NY  B.B. King's
Monday, August 10  FOXBORO, MA  Patriot's Place
Wednesday, August 12 CHICAGO, IL  Double Door*
Thursday, August 13 MILWAUKEE, WI Shank Hall*
Friday, August 14 TORONTO, ON  Lee's Palace*
Saturday, August 15 DETROIT, MI  The Magic Bag*
Sunday, August 16 CLEVELAND, OH  Beachland Ballroom*
Monday, August 17 PITTSBURGH, PA  Hard Rock Café*
Tuesday, August 18 ALEXANDRIA, VA (DC AREA)  Birchmere*

* denotes dates with Jerry Miller from Moby Grape on bill.