This is Camp Euforia. This One Goes to 11.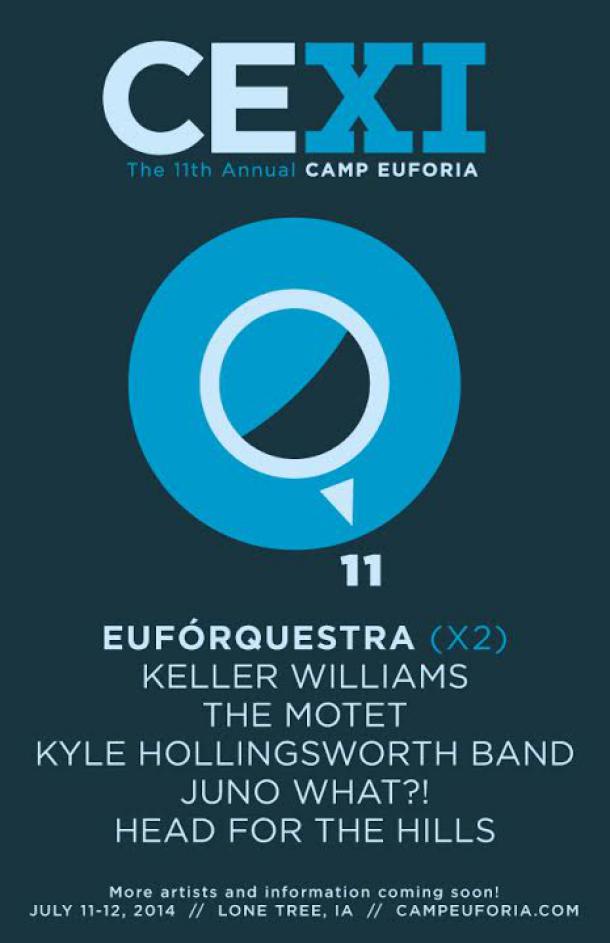 Bluegrass, world, reggae, funk and jam are all coming to Camp Euphoria XI (CEXI) this summer. It's one-festival, two-days, for all-ages, July 11-12, 2014 on "Jerry's Farm" near Lone Tree, Iowa.  With its hallmark eclectic musical lineup, Camp Euforia is turning it up to Eleven. One better.
"This year CEXI is for the fans, and we are taking it to 11!" says Eric Quiner, director of Camp Euforia. "Our local, regional and national acts have are the biggest yet and we could not be more excited to show case them all on Jerry's farm."
Get close to the music with three different venues that include the outdoor main stage, the up-close & personal small barn, and a late-night acoustic stage. CEXI offers free parking, free onsite camping, regional arts & crafts vendors, and music that keeps on going way into the wee hours.  Don't miss out on the Saturday a.m. yoga session or morning coffee with the Grosso Family Band.  This intimate festival continues to find faithful fans that yearn for a music festival with a totally personal experience. If you need that extra push, you know what to do? Put it up to eleven.
The 2014 line up features the music of:
Eufórquestra
Keller Williams
Motet
Kyle Hollingsworth Band
Juno What!?
Head for the Hills
But hey, enough of my yakkin'. What do you say? Let's boogie!
Tickets are available at www.inticketing.com on April 10, 2014. For more information please visit www.campeuforia.com. For volunteer information, please email campeuforiavolunteer@gmail.com.