Catch Poor Man's Whiskey @ Fairfield Theater | 7/20/14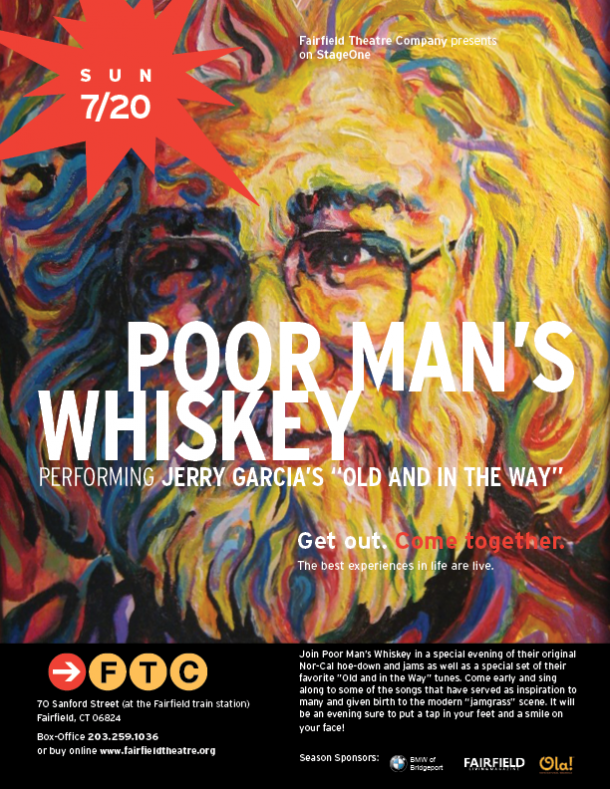 Join Poor Man's Whiskey in a special evening of their original Nor-Cal hoe-down and jams as well as a special set of their favorite "Old and in the Way" tunes at the Fairfield Theater in Fairfield, CT this Sunday night, 7/20. Come early and sing along to some of the songs that have served as inspiration to many and given birth to the modern "jamgrass" scene. It will be an evening sure to put a tap in your feet and a smile on your face!
Northern California's outlaw music bards bring a reputation for high-energy live shows and an incomparable fusion of bluegrass/old time, southern rock, and old school jam to stages and festivals worldwide. This "High-Octane Hootenanny" will certainly delight those interested in a foot-stompin' good time. Poor Man's Whiskey has evolved into a ragged, spontaneous beast pulling from equally deep wells of story-telling originals, expertly crafted covers and zany on-stage shenanigans.
PMW has released 6 studio albums, "Like a River", released in 2012, "Goodbye California" (2011), "Dark Side of the Moonshine" (a double disk set featuring original music as well as the bluegrass interpretation of the Pink Floyd classic album) (2009), "Roadside Attraction"(2005), "Train to California" (2003), and "Hunnerd Proof"(2002).
TICKETS & INFORMATION: https://fairfieldtheatre.org/shows/poor-mans-whiskey-0