CHARLIE MARS - AUSTIN CITY LIMITS MUSIC FESTIVAL - 10/8/10
Submitted by mike on Thu, 09/23/2010 - 20:14
Acclaimed singer/songwriter Charlie Mars will be performing at the Austin City Limits Music Festival on Friday, October 8th @ 12:20 PM.  Charlie has been on tour in support of his current CD, "Like A Bird, Like A Plane."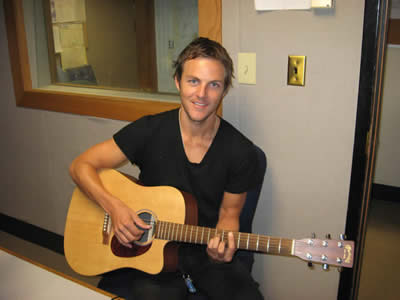 While in town for the festival, he'll be doing a short live set for KGSR on Thursday, October 7th at Threadgills.  The station will be doing a live broadcast from the venue at 8:30am.  Then he'll perform at the Austin Ventures Stage at ACL on Friday, October 8th at 12:20pm, followed by a Waterloo Records signing.  Charlie will then be doing a solo show from 3:15pm to 3:30pm on the Austin Kiddie Limits Stage. And on Saturday, October 9th, he'll  top it off with a show at Threadgills at 10pm.
Mars is known for his compelling live performances.  "When he's onstage, songs with deep grooves get some breathing room, and his lush choruses inevitably lead to raucous audience sing-alongs," said Esquire.
Mars recorded the album in Austin with drummer J.J. Johnson (John Mayer), keyboardist John Ginty (Citizen Cope) and bass players George Reiff (Jakob Dylan) and Dave Monzie (Fiona Apple). The video for lead single "Listen to the Darkside" (a nod to Pink Floyd) featured "Weeds" star Mary Louise Parker and was directed by Danny Clinch.
"Like A Bird, Like A Plane," was praised by The Washington Post for its "lush musical vignettes" while Jambase called it "a fine addition to the canon of one of the South's most under appreciated songwriters." "Charlie's sultry alternative-southern-soul mastery sounds like what the lead singers for Coldplay or The Verve might sound like if they grew up in the south listening to REM and Nick Drake," said Jackson Free Press and the Pittsburgh Tribune called the album "mesmerizing."  "Mars combines the lyrical, melodic, and rhythmic gifts of Paul Simon with the dark, rootsy quality of Bruce Springsteen," said Berkshire Living.
Born in Arkansas and raised in Mississippi, Mars released three independent albums before signing with V2. His self-titled, 2004 major label debut was hailed by Rolling Stone as "Big emotional rock from Mississippi with a knack for hooks, and the hooks here have real barbs: They tug at you and just might draw some blood." High profile tours with artists such as R.E.M., KT Tunstall, Citizen Cope, John Butler Trio and Bob Schneider followed. When V2 folded, Mars returned to his independent roots, financing "Like A Bird, Like A Plane" himself, and releasing it on Rockingham Records in conjunction with the Nashville-based Thirty Tigers.