Chatham County Line | Sight and Sound | Album Review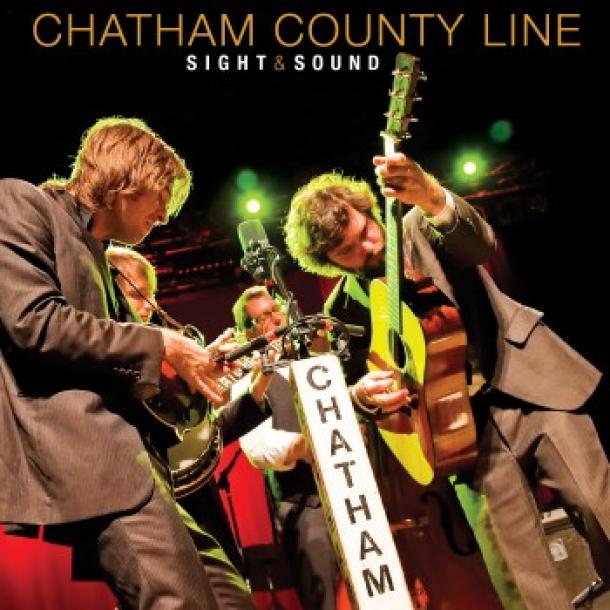 Chatham County Line releases the live album and DVD Sight and Sound, recorded in August 2010 at Raleigh's Fletcher Opera Theater. This collection of the North Carolina quartet offers an in-depth look of the bluegrass band's decade-long discography. Now available on Yep Roc Records, Sights and Sound includes in-depth interviews with Dave Wilson (songwriting , guitarist, Singer) who describes this project as "a loose Greatest Hits." Sights and Sound represent the earlier milestones of Chatham County Line's career, dating back to the first Chatham County Line record in 2003. Title tracks are included from Route 23 (2005) and Speed of the Whippoorwill (2006). However, with the original Fletcher performance on the heels of Wildwood (2010), it is understandable that most of this collection is representative of more recent recordings.  
Musically, this live album is impressive. John Teer (guitar, fiddle, mandolin, back-up vocals), Chandler Holt (banjo, dobro, guitar), and Greg Readling (bass, pedal steel guitar, back-up vocals) provide stellar harmonies and lead fills. "Alone in New York" and "Crop Comes In" open the album with softer melodies and southern perspective before opening in to the rollicking "Birmingham Jail". Chatham County Line's signature "one microphone" approach provides a close knit sound throughout the performance. The whole album is richly recorded and really does offer audiences a "Greatest Hits" experience.  In addition to the live album, the DVD includes fan favorites "One More Minute" and "Porcelain Doll".
Almost two years after their first Fletcher concert, Chatham County Line will be returning to Raleigh's Opera Theater as part of their tour to support this latest release, Sight & Sound. For the full tour, Click Tour.
Chatham County Line – Sight & Sound
CD/LP:
1. Alone In New York
2. Crop Comes In
3. Nowhere To Sleep
4. Birmingham Jail
5. By The Riverside
6. Route 23
7. Gunfight In Durango
8. Whipping Boy
9. Rock Pile
10. Speed Of The Whippoorwill
11. The Carolinian
12. Clear Blue Sky
13. Closing Town
14 Wildwood
15. Chip Of A Star
16. Let It Rock
DVD:
1. Crop Comes In
2. Gunfight In Durango
3. One More Minute
4. The Carolinian
5. Speed Of The Whippoorwill
6. Birmingham Jail
7. Clear Blue Sky
8. Closing Town
9. Blue Jay Way
10. Chip Of A Star
11. Let it Rock
12. Porcelain Doll
13. End of the Line