The Chemical Brothers: "Don't Think" Debuts on Feb 1st, 2012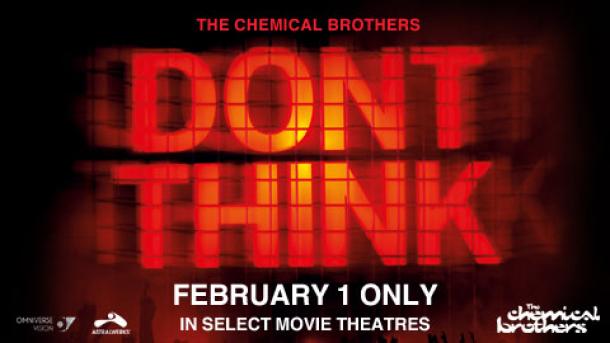 Multi GRAMMY® Award-winning electronic music duo The Chemical Brothers will bring their highly anticipated concert event, The Chemical Brothers: Don't Think to select movie theaters nationwide for a one-night event on Wednesday, February 1 at 7:30 p.m. local time. Directed by Adam Smith, the band's long time visual collaborator and produced with 20 cameras at Japan's Fujirock Festival in July 2011 in front of 50,000 dedicated fans, this event marks the first time the duo's full live experience has been captured for audiences. Considered to be one of the most mind-bendingly psychedelic live shows ever seen, The Chemical Brothers: Don't Think combines the band's famously ferocious modern electronic sounds and hardcore dance beats with striking, eye-catching visuals and will be followed by an exclusive interview with Adam Smith recorded in London in late 2011.
 
Presented by NCM Fathom, Omniverse Vision, Astralwerks and Black Dog Films, tickets for The Chemical Brothers: Don't Think are available at participating theater box offices and online at www.FathomEvents.com. For a complete list of theater locations and prices, visit the NCM Fathom website (theaters and participants are subject to change). The event will be broadcast to more than 200 select movie theaters across the country through NCM's exclusive Digital Broadcast Network.
The Chemical Brothers: Don't Think will take fans on an exhilarating ride" said Dan Diamond, senior vice president of NCM Fathom. "Mixed for the big screen by the band themselves, this Fathom concert event perfectly captures the energy and emotion of one of their most sensational performances."
Formed in Manchester in 1991 by Tom Rowlands and Ed Simons, The Chemical Brothers are a British electronic music duo. Considered pioneers of bringing the electronic music genre to the forefront of pop culture, The Chemical Brothers have released seven studio albums to date, five of which consecutively debuted at number 1 in the UK. They have won numerous GRAMMY®and Brit awards over the length of their career. Their score for the film "Hanna" won awards, while the track "Don't Think" from their album Further was featured in the hugely acclaimed Oscar winning movie "Black Swan."
 
"In the recording of a single show – a single night on a Japanese mountainside – Adam Smith, our longtime collaborator, has managed to capture the atmosphere of a very special festival appearance," said Tom Rowlands of The Chemical Brothers. "Come see how it feels to feel, be overwhelmed, intoxicated, swoonerated… Surrender to the void."
 
Often described as "the third Chemical Brother," Adam Smith has worked with the Chemical Brothers since their first gig in 1994 designing the visionary video elements of the duos' live shows, which have become synonymous with their work. From humble beginnings back when he would project spliced 16mm films behind the band at semi-legal raves to conceptualizing an entire album's worth of visuals (for last year's Further LP), Smith has created an ever-evolving, hallucinogenic backdrop to one of the most in-demand live shows in electronic music.
 
"After 18 years of working on The Chemical Brothers live show, we have finally captured it on film; you could almost say it's 18 years in the making," said Smith. "I wanted to capture what it is like to experience the show from right in the middle of the crowd, as well as showing and combining the visuals featured in the show with the footage we captured on this one night; to see how the music and visuals emotionally affect and connect with the audience."