Christopher Paul Stelling Reveals NYC Residency
Submitted by mike on Thu, 03/03/2011 - 21:43
Christopher Paul Stelling arrived in New York City in 2008 with nothing but his guitar and a duffel bag. Not necessarily concerned with making a name for himself, circumstance and necessity soon found him singing and playing guitar on the subway platforms. Although he still turns heads while playing in the subway every now and then, Stelling has since graced some of New York's finest stages, and now we're thrilled to announce his Rockwood Music Hall residency April, taking place each Tuesday night at 8pm.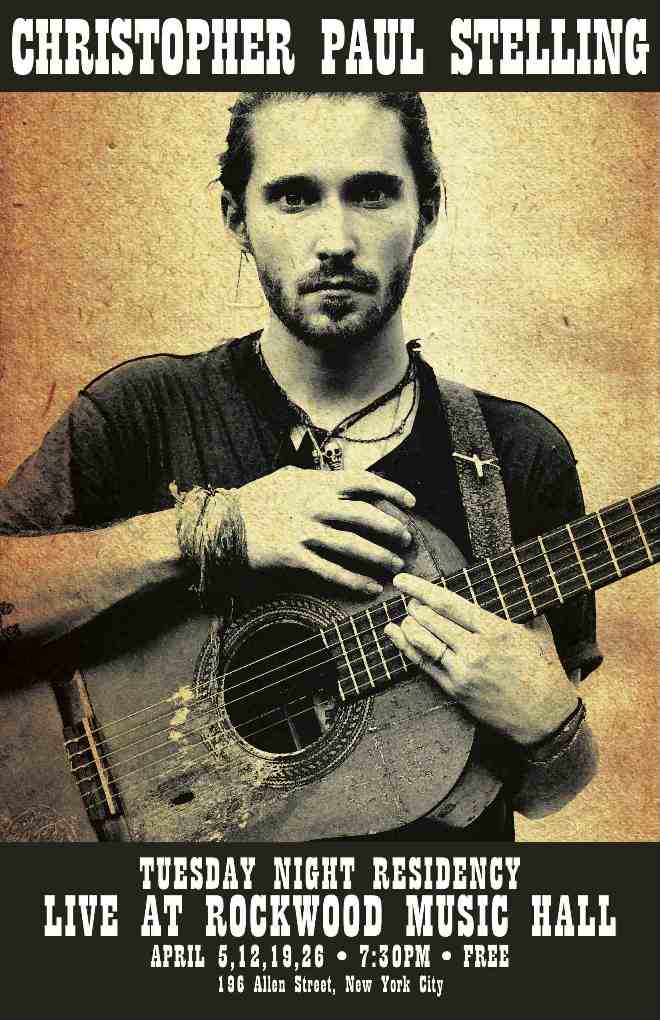 CPS also took time to link up with Break Thru Radio to film a compelling video for "Flawless Executioner," which was recorded in a horse stable near Prospect Park in Brookyln. The video went live today, so head over to BTR and check it out!
The years prior to Stelling's arrival in Brooklyn had seen him through something of an odyssey. He's studied under a master guitar builder in Colorado, slept in a closet in North Carolina, managed a used bookstore in Florida, and wandered aimlessly through Seattle, all without a said plan in mind- and completely unaware that something was being stitched together beneath it all.
His guitar playing style would seem more appropriate for a man twice his age, bringing to mind the likes of Leo Kottke, John Fahey, and Sandy Bull. His songwriting reaches deep, tugging emotional heartstrings, all while conjuring up imagery from religion, mythology and folklore.  Having already self-released a 20 song album on his own, and a live session with Daytrotter, his first official full-length is currently in the works.
--
Upcoming Christopher Paul Stelling Tour Dates
3/10 – NEW YORK, NY – The General Society of Mechanics & Tradesmen
(Live Performance & Artist Q&A)
4/05 - NEW YORK, NY - Rockwood Music Hall, Stage 1 
4/12 - NEW YORK, NY - Rockwood Music Hall, Stage 1
4/19 - NEW YORK, NY - Rockwood Music Hall, Stage 1
4/23 – BUTLER, PA – Butler Art Center (AABC)
4/26 - NEW YORK, NY - Rockwood Music Hall, Stage 1