Christopher Paul Stelling Shares Free Single, Extends US Tour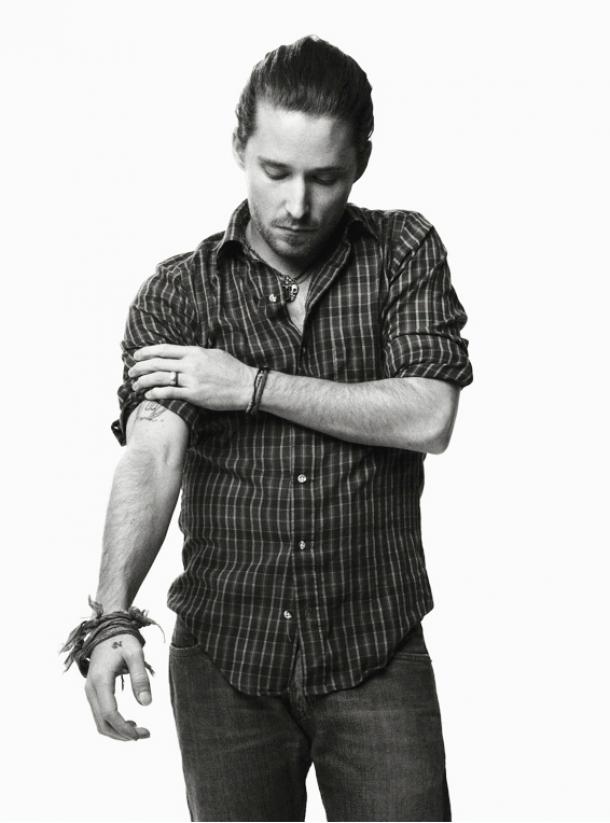 New York City songwriter Christopher Paul Stelling's debut record Songs of Praise & Scorn sees its long-awaited release today via Mecca Lecca Recording Co. (you can stream the album in full this week via Spinner too). In celebration, Stelling is sharing the second single from the record, "Solar Flares," which is now available as a free download on his bandcamp page.
CPS hit the road in support of SOPAS this past weekend, setting out on his first full national tour which has him on the road through the beginning of May (all tour dates below). He's also playing several festivals along the way, including SXSW, Savannah Stopover Festival, Middle of the Map Festival, The Big Spill, and Rock The Park. Keep an eye out for even more tour dates, coming soon.
Songs of Praise & Scorn features backing vocals from Julia Christgau and violin accompaniment by Cheyenne Marie Mize. Christopher's burgeoning notoriety was born from his countless live performances over the last three years. Live, his shows range from whisper-quiet, to a wall of sound through his expertly finger-picked guitar melodies, incendiary howling vocals, and foot stomps set against his signature storytelling, which conjures up a vast and alluring palette of unearthly yet organic imagery.
Having graced the stages of a hugely diverse gamut of venues, both small and large, on the reputation of his live performance alone, this record is sure to confirm his place among today's most vital and relevant songwriters.
Upcoming US Tour Dates
2/21 - Charlottesville, VA - The Garage
2/22 – Lexington, KY – Al's Bar
2/23 – Louisville, KY – 930 Listening Room
2/24 – Memphis, TN – Folk Alliance (Memphis Room, 7:30pm)
2/26 – Orlando, FL – The Social
2/27 - Daytona Beach, FL – The Ocean Deck
2/28 – Miami, FL – Bardot
2/29 – Jacksonville, FL – Jack Rabbits
3/01 – Tampa, FL – Rock The Park (6:45pm)
3/01 - Sarasota, FL - Cock and Bull (9pm)
3/02 – Atlanta, GA – Wonderroot (w/ Ben Trickey)
3/04 – Greensboro, NC – The Green Bean
3/06 - Asheville, NC – The Get Down
3/07 – Chapel Hill, NC – Nightlight
3/08 – Birmingham, AL – Samford University
3/09 – Savannah, GA – Savannah Stopover Festival
3/10 – Knoxville, TN – Preservation Pub
3/11 – Johnson City, TN – Acoustic Coffeehouse
3/14 – Houston, TX – Super Happy Fun Land
3/15 – Austin, TX – The Tap Room @ 6 (Showcase details, 9pm)
3/18 - Austin, TX @ Lomography (ProxArt Showcase, 11am)
3/18 – San Antonio, TX – The Korova (The Big Spill, 4pm)
3/19 – Dallas, TX – Opening Bell Coffee
3/20 – Lubbock, TX – Prairie Fire Theatre
3/22 – Wichita, KS – Kirby's Beer Store
3/25 – Denver, CO – Larimer Lounge
3/29 – Evergreen, CO – Little Bear Saloon
3/30 – Boulder, CO – The Laughing Goat
4/01 – Pueblo, CO – The Downtown Bar
4/05 – Kansas, City, MO – Middle of the Map Festival
4/06 – Des Moines, IA – Vaudeville Mews
4/07 – Madison, WI – Project Lodge
4/08 – Milwaukee, WI – Tonic Tavern
4/10 – Chicago, IL – Ace Bar
4/13 – Butler, PA – Butler Art Center
4/15 – Buffalo, NY – The Vault
4/17 – Rochester, NY – The Bug Jar
4/18 – Ithaca, NY – Culture Shock
4/19 – New Haven, CT – Café Nine
4/20 – Boston, MA - TBD
4/22 – Biddeford, ME – The Oak & The Axe