Colin Stetson Announces US Dates w/ Arcade Fire
Colin Stetson has performed the solo saxophone music of New History Warfare in practically every type of venue that music inhabits, and although this music may seem challenging on it's surface, every audience in every room in every city has received it with a warm and energized embrace.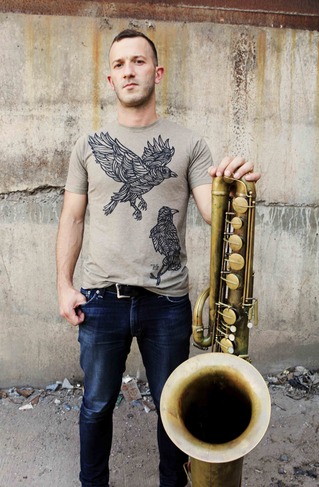 From chanting and clapping crowds of rock fans while opening up for the Arcade Fire in a string of Get out the Vote rallies for the Obama Campaign last summer to a captivated and curious standing room only in rural Germany. The monks at the National Shrine of St. Francis Assissi were so thrilled with an easter sunday performance that they had him back for two more in the years to come. It is a spectacle of physical extremes (Lexy Benaim of the Harlem Shakes likened it to watching the Olympics, and Alex Green at Caught in the Carousel calls him "the Roger Federer of avant-garde instrumental music") and an intense and cathartic experience of sound and lyricism.
Both sonically vast and melodically accessible. Allmusic.com's Sean Westergard had this to say: "Colin Stetson is an absolute master of the saxophone...New History Warfare, Vol. 1 is a truly impressive, fully formed, and highly individual musical statement... Stetson's compositions and ability to tell a musical story are what make this a great album. You haven't heard saxophone music quite like this".
Aside from his work as a soloist, Stetson has brought his unique voice on winds and brass to stage and studio with dozens of artists, including Tom Waits, Arcade Fire, TV on the Radio, Fiest, Bon Iver, Laurie Anderson, Lou Reed, Marc Ribot, David Byrne, Jolie Holland, Sinead O'Connor, LCD Soundsystem, My Brightest Diamond, Angelique Kidjo, Anthony Braxton, and The National.
Tour Dates:
Tue Oct 5th - Big Sur CA Henry Miller Library
Thu Oct 7th - Los Angeles CA Shrine Auditorium
Fri Oct 8th - Los Angeles CA Shrine Auditorium
Sun Oct 10th - Mexico City Palacio de los Deportes
Tue Oct 12th - Monterrey Banamex Theater