Colin Stetson Named In NPR's Best Of 2011
Colin Stetson
is a horn player of uncommon strength, skill and genre-defying creativity. He composes and performs otherworldly songs that combine a mastery of circular breathing technique with percussive valve-work and reed vocalisations, making a polyphonic solo music that combines influences as diverse as Bach, early metal, American pre-war Gospel, and the explorations of Jimi Hendrix, Peter Brotzman and Albert Ayler.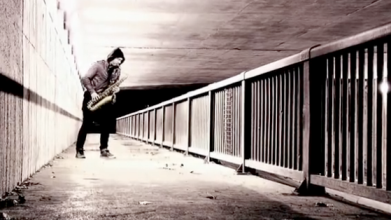 New History Warfare Vol. 2
: Judges is Stetson's second solo record and his first for Constellation.  Colin has been making his mark as a staggering solo performer for several years now, in front of audiences small and large, from intimate jazz and experimental music venues to big stages, whether opening for Arcade Fire or The National, or playing at jazz and new music festivals like Moers and London Jazz. His talents have been widely recognised and employed by artists as diverse as Tom Waits, Laurie Anderson, TV On The Radio and Bon Iver.  Colin also plays in Belle Orchestre and Sway Machinery.
The music on New History Warfare Vol. 2: Judges was captured entirely live in single takes at Montréal's Hotel2Tango studio, with no overdubs or looping, using over 20 mics positioned close and far throughout the live room. Guest vocals by Laurie Anderson and Shara Worden (My Brightest Diamond) are the only exceptions to this rule, along with one brief french horn that was multi-tracked.
The Judges sessions were co-produced by
Stetson
and Shahzad Ismaily and engineered by Efrim Menuck at the Hotel2Tango, then taken to Greenhouse StudiosBen Frost.
The result is a highly original, experimental, euphoric record that fires on all levels: a document of an astoundingly strong and gifted player; a compositional tour-de-force; and a studio production bursting with intensity and inventiveness.
New History Warfare Vol. 2: Judges features cover art by Tracy Maurice and will be issued on CD in custom 100% recycled paperboard gatefold jacket and on 180gLP with a limited edition screenprinted poster contained in the first pressing. The album will also be available digitally.