Colorado-Based Taarka Embarks on West Coast Spring Tour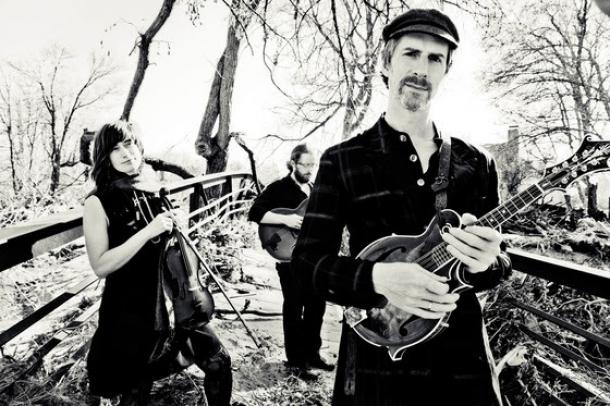 Though they characterize their sound as gypsy jazz and titled their latest album Adventures in Vagabondia, David and Enion Pelta-Tiller, the husband-and-wife duo fronting acoustic band Taarka, weren't planning on becoming full-fledged nomads. Fate forced their hand, however, when they lost their home to Colorado's devastating fall floods. Undaunted, they spent the winter in Virginia planning a two-month spring run through Colorado, California and Oregon. It kicks off March 30 at the Wild Bear Ecology Center in Nederland, Colo.
The pair and their rotating roster of stellar players will hit many notable venues, including the Lagunitas Brewing Co. TapRoom in Petaluma, Calif., and the Alberta Rose Theater in Portland, Ore. (Dates below.) For information and tickets, visit taarka.com.
Described by San Francisco Weekly as "a collision of Django Reinhardt and David Grisman" (and dubbed "alt-Americana" by Midwest Records blogger Chris Spector), Taarka filters roots, jazz and classical influences through David's mandolin and tenor guitar and Enion's five-string violin, and their shared vocals. Their support comes from the ranks of guitarists Grant Gordy, Ross Martin and Scott Law and bassists Eric Thorin and Sam Grisman.
Both David and Enion were raised by musician parents and trained formally from childhood on. They met in New York City, where they began busking and writing songs together, then started touring as Taarka. (As for the origin of the name, they list several intriguing explanations on their website.)
Emerging restored from their winter sojourn, Taarka is already at work on a new release. In the meantime, the road beckons, and these vagabonds are ready.
Taarka spring tour dates

March 30 – Wild Bear Ecology Center, Nederland, Colo.
April 3 – Avogadro's Number, Fort Collins, Colo.
April 4 – The Listening Room at Wanderlust Road, Salida, Colo.
April 5 – Wildwood Sounds House Concerts, Del Norte, Colo.
April 6 – Historic Salina Schoolhouse, Boulder, Colo.
April 18 – Amnesia, San Francisco
April 19 – Weller House, Fort Bragg, Calif.
April 20 – Arcata Playhouse, Arcata, Calif.
April 24 – Lagunitas Brewing Co. TapRoom, Petaluma, Calif. 
April 25 – Grass Valley House Concerts, Grass Valley, Calif.
May 2 – Cebu Lounge, Hood River, Ore.
May 3 –  Milagro's, Ashland, Ore.
May 8 – Alberta Rose Theatre, Portland, Ore. 
May 9 – Venti's Cafe & Basement Bar, Salem, Ore. 
May 10 – Pakit Liquidators, Bend, Ore.
May 11 – Tsunami Books, Eugene, Ore.
May 30 – Oskar Blues, Lyons, Colo.