Conspirator releases new track, announces fall tour dates
Submitted by press on Fri, 08/26/2011 - 17:04
Conspirator, the live electronic brainchild of Marc Brownstein and Aron Magner of The Disco Biscuits and their new partner Chris Michetti, is set to hit the road again this fall. Armed with an arsenal of slamming new electro songs, the trio will welcome superstar drummer KJ Sawka (PENDULUM) to the tour for the first six shows before passing the baton to Conspirator regular Mike Greenfield of Lotus.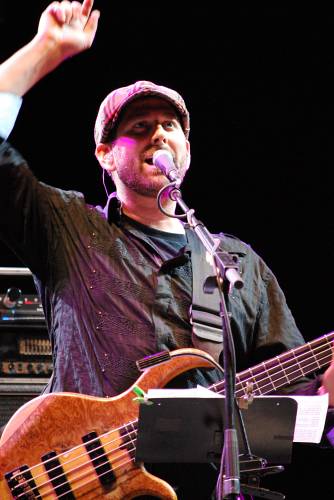 Conspirator has been hard at work in the studio, working on a slew of new tracks inspired by the current styles of popular electronic music, embracing the sounds popularized over the last few years. "Feed the Wolf," the first installment from a batch of new original tracks, is out this week on SoundCloud with new singles to be released bi-monthly through the fall. At 128 BPM, it combines elements of Electro and Dutch House, but still retains an original edge that is always present in Conspirator's music.
As well, they have been cutting their teeth in the remix game, currently working on official remixes of 12th Planet, Porter Robinson, Zed's Dead, Vaski, and TimBerg/Avicii with many more to come. The release of these remixes is expected to begin this fall, concurrently with the release of the original material.
Marc and Aron are currently among the headliners of the IDentity Festival, performing with The Disco Biscuits. The experience has them touring the nation with hot electronic artists such as Rusko, Kaskade, Pretty Lights, and Steve Aoki. Once the 18-show amphitheater tour concludes at the Gorge in early September, they will immediately start preparing for the 3 week Conspirator Fall tour, which brings them from the Mid-West, through their native Northeast and finally down South to Langerado Music Festival in Sunrise, FL before closing the tour with a stop in Charleston, SC. This will, ironically, bring Conspirator back to where they started festival season, having played the sold out Ultra Music Festival in Miami last March. It has been an exciting year for Conspirator, having made stops at such illustrious electronic music festivals such as UMF, Nocturnal (Texas), Electric Forest, and Camp Bisco 10, which was hosted by the Disco Biscuits and reached a sold out, capacity crowd of 25,000 people.
Keep your eye out for Conspirator as they bring their newest sounds into your town this fall!
--
CONFIRMED CONSPIRATOR TOUR DATES:
09/09/11 -Catskill Chill Music Festival - Hancock, NY
09/20/11 - Busters Billiards & Bar - Lexington, KY
09/21/11 - Lyric - Oxford, MS
09/22/11 - Middle Tennessee State University - Murfreesboro, TN
09/23/11 - Tall Tree Music Festival - Goreville, IL
09/24/11 - Majestic Theater - Madison, WI
09/25/11 - Bell's Brewery - Kalamazoo, MI
09/27/11 - Mr. Smalls Theater - Pittsburgh, PA
09/28/11 - Town Ballroom - Buffalo, NY
09/29/11 - Westcott Theater - Syracuse, NY
09/30/11 - Higher Ground - Burlington, VT
10/01/11 - Paradise Rock Club - Boston, MA
10/02/11 - Brooklyn Bowl - Brooklyn, NY
10/05/11 - Lincoln Theater - Raleigh, NC
10/06/11 - Georgia Theater - Athens, GA
10/07/11 - State Theatre - St. Petersburg, FL
10/08/11 - Langerado Music Festival - Sunrise, FL
10/09/11 - Pourhouse - Charleston, SC
10/21/11 - Canal Club - Richmond, VA