The Contribution: -- 'Which Way World'
Submitted by kalene on Sat, 03/27/2010 - 06:29
When members of New Monsoon, Railroad Earth and String Cheese Incident come together to create an album the result is Roostsy Americana bliss. Contribution, an appropriate name for a group whose members have bestowed many a musical gift to the masses with their previous bands, will drop Which Way World on March 30.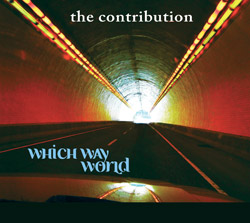 An album bursting with country gumption and raw poetic flare, this debut showcases the artistic veracity and harmonious nature of some of the best musicians on today's jam circuit. A balanced blend of old-time charm and aggressive string-heavy muscle, this collaborative effort exemplifies the razor-sharp skills of Tim Carbone (violin, vocals Railroad Earth), Jeff Miller (guitar, mandolin, vocals, New Monsoon), Phil Ferlino (keyboards, New Monsoon), Keith Moseley (bassist, the String Cheese Incident), and Jason Hann (percussion, the String Cheese Incident).
From the initial notes, "Come Around" takes off like a tumbleweed in a dust storm, moving with force, freely charting out its own territory in a sandy soundscape of earnest handclaps, vocal harmonies and a fierce web of strings. Chameleon-like in nature, this opening track captures both a mischievous apathetic side and one of comforted hope. The dichotomous lyrics of "Never mind/never mind/why?" and "Sometimes you gotta lose yourself/find yourself/come around again" play out like a fencing match of internal conflict. The track rounds things off with a whiskey soaked "I don't care!" from Carbone.
"Time Was Only Yesterday" initially breathes saloon-singer vulnerability, and holds that vintage desire to relive the past. Unexpectedly, lyrics about a "carnival parade" are quickly met by a collage of festive circus-esque clamor. The colossal racket is spiked with the scream of brassy horns and faded shouts you would imagine escaping from the lips of a vagabond ringleader.
"Better Days" proves to be one of the most lyrically poignant tracks on the album. The need for nostalgia, once again, resurfaces. While it gets off to a mellow start, the harmonized sturdy chorus of 'Gone gone away are better days,' which culminates with the tinge of tambourine, stands out like a mighty oak left upright after a forest fire.
Brilliance isn't limited to the instrumentals when you stop to absorb the momentous metaphors and similes just swimming around in the ocean of sound – "Couldn't see the danger there/ like children scaling rocks beside the sea…"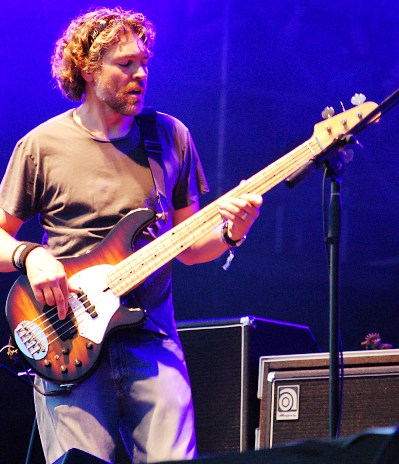 "Fear of Nothing" hits the listener like a sun shower on a sweltering day. Cool, refreshing and unapologetic, it reigns down with honky tonk tenacity. The upbeat, electrifying piano-laden, tune exudes a sense of rock n' roll, gospel and blues. Sprinkling a ferocious feminine energy to the mix, are the Black Swan Singers who come equipped with fierce pipes—strong enough to stir a corpse. By far the most danceable tune on the disc, it resembles a hybrid of Great America Taxi meets the Black Crowes.
'Wind Me Up' is more spoken then sung and comes across like a sincere monologue of someone who has grown tired of, but accustomed to, going through the motions. The accompaniments and vocals are reminiscent of something quirky country alt-rockers Wilco would create.
"Which Way World," the title track of the album, captures a Crosby, Stills, Nash and Young vibe and yet at times it sounds more like a top ten contemporary country radio hit. Slow, steady and straight up Zenful, it's a letter to our spinning sphere inquiring bout the very nature of its direction.
"Samsara" opens with piano playing that is rapidly coated by the lush emotion-evoking violin, proving that there is nothing like strings to set a melancholic mood. Capturing a rather dark tone, it sounds like a Celtic pagan homage to the earth— "I am the sky/speak through the wind/I am a shadow/darkness within..."
Let the musical monsoon of earthy cheese-coated goodness splash full force in a downpour that will have you tossing the umbrella and caution to the wind.