Countdown Is On For Thunder On The Mountain Country Music Festival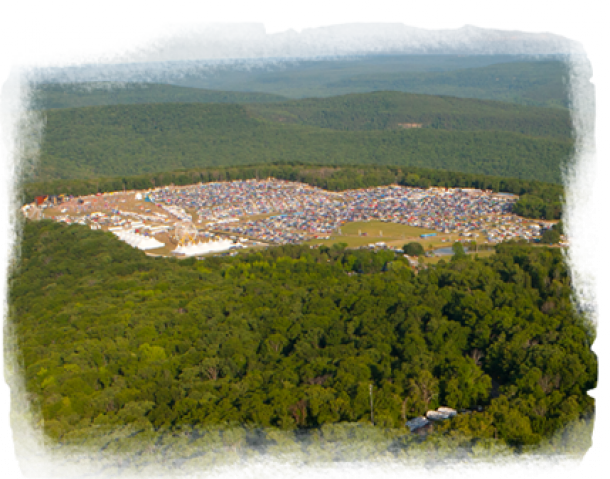 With little more than a month to go before the inaugural Thunder On The Mountain, preparations are heating up at Mulberry Mountain in anticipation of the nation's premier Country Music and Camping Festival.  The lineup features headliners Toby Keith, Luke Bryan, and Big & Rich, along with Thompson Square, Montgomery Gentry, Gretchen Wilson, Justin Moore, Easton Corbin, Shooter Jennings and so many more.  Tickets are moving quickly but there are still multiple options available, including the luxurious VIP packages and hotel program, so be sure to grab your event passes and lodging soon!
 
Cowboy rockstars Big & Rich will be getting the party started early on Thursday night, June 6th so strap on your spurs and dig in for an action packed weekend of great music, food, and adventure. Newly crowned ACM Entertainer of the Year, Luke Bryan, will headline Friday night's performances on the Main Stage and, as he puts it in his 2012 single of the year, you "won't want this night to end".  Make sure to have your Red Solo Cup at the ready for Saturday night's knockout show by America's favorite superstar, Toby Keith.  Saddle up for some fun on the mountain!
Thunder on the Mountain features one of the greatest Red Dirt lineups in the country including: Shooter Jennings, Randy Rogers Band, Casey Donahew Band, Josh Abbott Band, Stoney LaRue, Pat Green, Kevin Fowler, Bleu Edmonson, Brandon Jenkins, Cody Canada and the Departed and Roger Creager. Thompson Square, ACM's vocal duo of the year, and riding high with their hit "If I Didn't Have You" at #2 on country radio, is lined up to deliver one of the best performances of the weekend.  Also make sure to be on hand for a guaranteed stellar performance by Easton Corbin, the first male country artist in nearly 20 years to have his first two singles go straight to #1 on the ACM charts.  His new album, All Over the Road, is rapidly rising in rank with hits "Lovin' You Is Fun" and "All Over the Road."
 
In between gettin' down to your favorite musicians, take some time to enjoy the abundance of activities available on-site at Thunder on the Mountain and the beauty of the Ozarks.  Brand new activities include canoe, kayak, raft, and tube rentals from BYRD'S Adventure Center.  Take your free shuttle to drop off points at either 3.5 or 7.5 miles and relax and enjoy a peaceful float down the scenic Mulberry River.  Other featured activities include hiking the Ozark National Forest, fishing, swimming, a giant water slide and the ferris wheel.  Looking for an adrenaline rush?  Check out BYRD's 4x4 adventure packages for all kinds of offroad excitement!
 
Still need a ticket?  Treat yourself to the exclusive Thunder on the Mountain luxury program by considering a VIP event pass or hotel package.  Hotel packages mean you will wake up in your own bed, enjoy a hot shower and a free breakfast, and jump on the Hotel Hopper shuttle to bring you to and from the festival grounds at beautiful Mulberry Mountain.  All hotels are located a short drive away in Van Buren, AR, and will be available in three tiers, offering a variety of quality, value, and affordability with packages for 3 or 4 night stays.  VIP at Thunder is an all-inclusive package complete with shaded VIP camping, front row seating, meals, discounted beverages, hot showers, friendly staff and more. Patrons can can also chose reserved seating packages, where guests can be comfortable and convenient in front of the Main Stage. Upgrades are also available, contact Pipeline Ticketing at (785)749-3434, 10am-6pm central, to upgrade your GA tickets to VIP today!  For all ticketing information visit the official website at: www.thunderonthemountain.com.