The Cringe Announce Release of New Album, Hiding In Plain Sight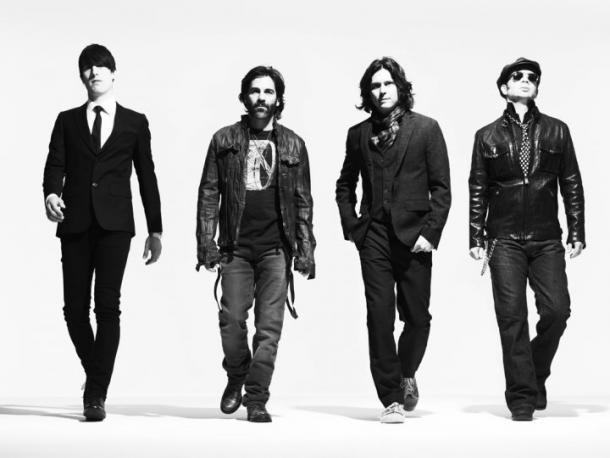 Nearly two years since the release of the band's last album Play Thing, The Cringe is on the cusp of releasing their eagerly awaited fourth and most accomplished album, Hiding In Plain Sight on October 9th.  The album was produced by the band as a team, with engineering by Steve Hardy (Vertical Horizon) and mixing by Hardy and Jon Kaplan (Augustana, Parachute).  In honor of the announcement of their album, The Cringe is sharing their first track, "Rushing Through The World," which just premiered on GuitarWorld.
The Cringe features John Cusimano on vocals, keyboards and rhythm guitar, celebrated drummer Shawn Pelton (SNL Band, Sheryl Crow), lead guitarist and singer James "Roto" Rotondi (Mr. Bungle, Air, The Grassy Knoll) and bassist Jonny Blaze (Tina Parol, Alice Smith).
From the down-and-dirty, D-Generation-style boogie rock of "Gotta Find A Way" to the Neil Young-like super ballad "Make Me Something," the songs on Hiding in Plain Sight certainly do not hide their eclectic intentions. "Rushing Through the World," an unholy alliance of Rage Against the Machine-era riff rock and King Crimson-style lattice-work, is an almost Buddhist appeal to turn inward before we blow up the outside world: "It's a sin we all commit/We're running from ourselves, lost again from where there's stillness."
Like some lost gem conjoining the guts of Raw Power with the headiness of Superunknown, "Get Me Some" tells a '70s-inspired New York story of 100-degreee summer nights and Alphabet City sleaze: "Bad blood downtown/picks me up and drags me down/sweating bullets like a loaded gun/Warm and dangerous all in one/I'm gonna get me some." "Lord Jim," with its stacks of minor chords and odd-time blues riffs, suggests Cream by way of Kyuss, its heaviosity underscored by lyrics that probe the terrors of a downward spiral: "The thunder moves/Your thumbs will screw/The black horse bears down on you."
Through the band's career, they have accumulated a devoted fan base and won over fellow artists such as Bob Schneider, Vertical Horizon, and Sister Hazel, all of whom have invited The Cringe to accompany them on tour.  They have additionally hit the stage alongside acts such as The New York Dolls, The Hold Steady, The Bravery and Fuel.  Next week, the band will be adding Trapt to their list as they announce tour dates (below).  Perhaps the biggest fan of the band is food celebrity and alt-rock aficionado Rachael Ray, who married Cusimano in 2005.
With powerful tracks like these, it's going to be increasingly difficult for the Cringe to fly under the radar much longer. . .
Catch The Cringe on Tour with Trapt!
07/31:  Kansas City, MO @ Beaumont Club
08/01:  Waterloo, IA @ Spicoli's
08/05:  South Bend, IN @ Club Landing
08/07: Ducannon, PA @ Rock Kat
08/09:  Cleveland, OH @ Peabody's
Track List
Rushing Through The World
Finally Gonna Be On Your Own
Deep Girl
One Horse Town
Gotta Find A Way
Make Me Something
Gimme Resurrection
Get Me Some
Lord Jim
Blame It All On Me
String You Along So Long
---