Damon & Naomi Announce Coast-to-Coast Tour
Submitted by mike on Wed, 04/06/2011 - 02:26
Damon & Naomi embark on a coast-to-coast US tour behind their new album, False Beats and True Hearts (out May 17th on 20/20/20), with a live show featuring lead guitarist Michio Kurihara (Boris, Ghost) on the East Coast and Midwest, and saxophonist/arranger Bhob Rainey (nmperign) on the West Coast. The tour is a co-headline with Amor de Dias, the duo of Alasdair MacLean (The Clientele) and Lupe Núñez-Fernández (Pipas) -- although these shows mark Amor De Dias's US debut, the two duos have already played together several times in the UK, so expect collaborations between these friends throughout.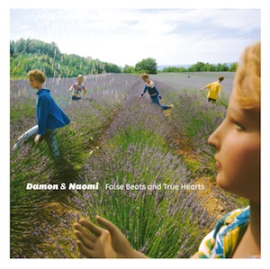 Damon Krukowski says of their live show:
"When we play live, we prefer to strip most everything away but the emotional core for us of the lyrics, and our voices. It's a more folky approach, trying to communicate the emotions in the songs as fully as we can in a live setting. For that reason we also love to bring lead players with us who respond and add to that kind of direct emotional approach."
To celebrate this tour of duos, Damon & Naomi are releasing a new track off their forthcoming record. Listen to "Shadow Boxing," a song Damon describes as their "Richard and Linda Thompson-inspired number, a duet/conversation/argument in song."
--
Listen to/download "Shadow Boxing" here.
Listen to/download "Walking Backwards" here.
Check out Chris Marker's "video" for Damon & Naomi's "And You Are There" here.
--
DAMON & NAOMI TOUR DATES:
Mon. May 9 - Glasgow, UK @ Captain's Rest @*
Wed. May 11 - London, UK @ Cafe Oto @*
Fri. May 13 - Cornwall, UK @ The Kings Arms Penryn @*
Sat. May 14 - Bristol, UK @ Cube Cinema @*
Wed. May 18 - Washington, DC @ Red Palace @%
Thu. May 19 - Carrboro, NC @ The ArtCenter @%
Fri. May 20 - Baltimore, MD @ Metro Gallery @%
Sat. May 21 - Philadelphia, PA @ 1st Unitarian Church Chapel @%
Sun. May 22 - Brooklyn, NY @ Knitting Factory @%
Mon. May 23 - Boston, MA @ Great Scott @%
Wed. May 25 - Toronto, ONT @ Horseshoe @%
Thu. May 26 - Pontiac, MI @ Pike Room @%
Fri. May 27 - Chicago, IL @ Lincoln Hall @%
Sat. May 28 - Minneapolis, MN @ Triple Rock @%
Tue. May 31 - Seattle, WA @ Tractor Tavern #%
Wed. June 1 - Portland, OR @ Bunk Bar #%
Fri. June 3 - San Francisco, CA @ Bottom of the Hill #%
Sat. June 4 - Los Angeles, CA @ The Satellite #%
Sun. June 5 - San Diego, CA @ Soda Bar#%
* w/ Richard Youngs
% w/ Amor de Dias
@ performing w/ Michio Kurihara (guitar)
# performing w/ Bhob Rainey (saxophone)