Dancefestopia Music Festival 2013 | Preview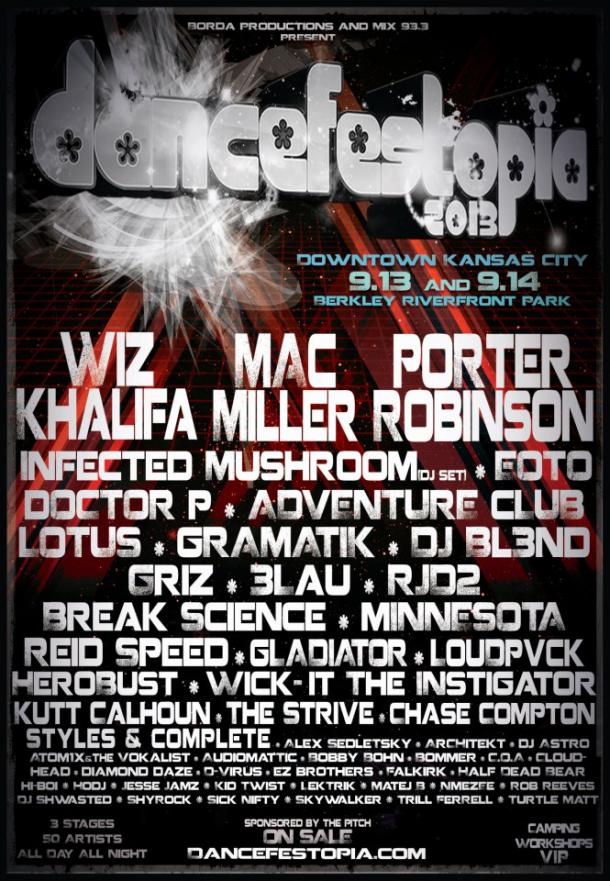 Back for its 2nd year, Dancefestopia is soon to make a repeat appearance in Kansas City, MO.  Featuring over 60 EDM and hip-hop artists including big names such as Wiz Khalifa, Porter Robinson, Mac Miller, Lotus, EOTO, Adventure Club and more, festival goers far and wide are making their way to the Midwest to take part in the popular festival.
The much-anticipated event will take place on September 13th and 14th at Berkeley Riverfront Park in Kansas City.  The party will include activities stretched over 40 acres of uncorrupted Midwestern fields securing its patrons in a magical and enchanted atmosphere.  With artists playing throughout the day until up to 5am across 3 separate stages, Dancefestopia will be an epic experience.
Borda Productions has worked hard to make improvements on the two year old festival by providing activities in association with the Vibe Tribe KC such as a prop show, LED light show, side show acts, live painting, stilts, workshops and more.
With only 9 days to go, weekend passes are still available for $114.99 on the Dancefestopia website.  They also feature a "no money down" option as well as an exclusive VIP experience.  If you missed out on this EDM sensation last year, do yourself a favor and get there this year.
Learn more about our writers!  Check out Maria's Twitter.