Danny Barnes Trio & Spring Creek @ Boulder Theater
Submitted by mike on Mon, 10/12/2009 - 23:28
The banjo stirs a feeling of timelessness with its old time/bluegrass/folk associations. Danny Barnes builds with these base molecules of the instrument's heritage, sculpting a sound with one foot in contemporary technological landscapes, another in deep running traditions, and arms waving free in outer space. Found audio samples merge and crash as the instrument's high picking peaks and valleys of bassy depths loop in a journey through the American heart of darkness and back towards the light. Add the free form jazz of Ornette Coleman to the legacy of Dock Boggs, remix it with DJ Shadow, and view it through a DIY punk aesthetic and you have some idea of Folktronics. Live, on studio or homemade records, and through the countless concert recordings that circulate in the taper scene as word-of-mouth gems, Barnes is a sonic pioneer, hacking through the underbrush with his musical weapons of choice, banjo as compass.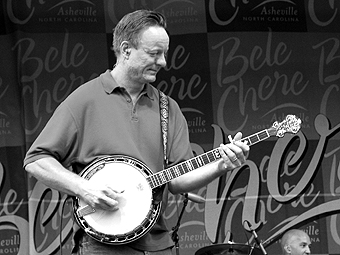 Spring Creek from Lyons, Colorado, are quickly gaining a reputation as the hottest young band in the Rocky Mountains. The quartet play a mix of bluegrass standards and compelling originals, and all four musicians are also accomplished vocalists. Spring Creek builds their foundation on the fundamentals of classic bluegrass, yet they create their own energetic contemporary style.Though they clearly appeal to traditional bluegrass fans, the Spring Creek musicians mix in a little something for everyone at their live shows. Expect to hear an Elton John or Gillian Welch cover squeezed in between a blazing fast Carter Stanley instrumental and a rip roarin' Bill Monroe tune.
Honey Don't plays American Stringband Music from the heart of Colorado and the Rocky Mountains. The music ranges from Americana to Folk, Country, Old-time, Bluegrass and good old Rock-n-Roll.
DANNY BARNES TRIO & SPRING CREEK
w/ Honey Don't
Friday, November 27
doors 7:30pm, show 8:30pm