The Darcys Announce AJA, Steely Dan Cover Album + "Josie" MP3!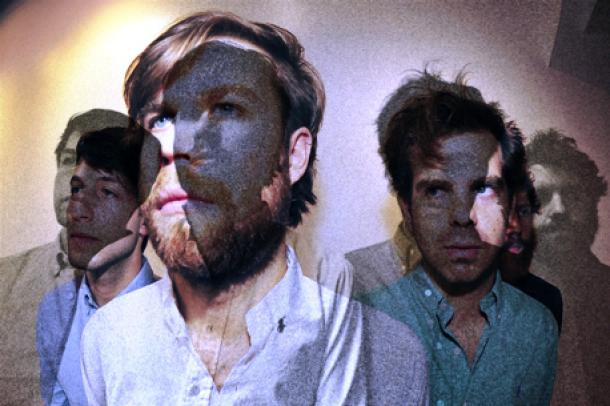 Toronto art rock quartet The Darcys is set to release AJA, the second in a trilogy of releases. An interpretation of Steely Dan's 1977 studio masterpiece, the album was produced, arranged and recorded by the band at home during the summer and fall of 2010. AJA will be released as a FREE digital download at thedarcys.ca on January 24, 2012 via Arts & Crafts.  It will also be available on limited edition 180-gram colored vinyl from GalleryAC.com.
Fans can download The Darcys' interpretation of Steely Dan's "Josie" from the band's website starting tomorrow or where it premiered on Rolling Stone today.
Moody, dense and textured, AJA is an exploration of physical and emotional space and the real and imaginary divisions within it. The decision to interpret the album in full was made during a period in which the band struggled to complete its self-titled sophomore record. With no label and mixing stalled, The Darcys were unable to track new material, instead embracing the challenge of reshaping the collective favorite and presenting it to the world as a dark, but bold declaration of self-sufficiency. "We did it because we could," the band's Wes Marskell explains. "And because we thought we couldn't. It became as much an art project as an album."
More than a year later, following a multi-album deal with Arts & Crafts and the release of The Darcys on October 25, AJA is unveiled, representing an essential link from 2011's self-titled offering to the band's much-anticipated third studio release. Earning their touring chops by having played with the likes of Deerhoof, Hollerado and Tennis in the past, The Darcys will spend early 2012 supporting both releases across North America on tour with Bombay Bicycle Club. The Darcys self-titled album remains available for free download at THEDARCYS.ca.
Tour Dates w/ Bombay Bicycle Club
 
2/14: San Diego, CA @ The Casbah
2/15: Los Angeles, CA @ El Rey Theatre
2/16: San Francisco, CA @ Popscene @ Rickshaw Stop
2/17: Portland, OR @ Doug Fir
2/18: Seattle, WA @ Crocodile
2/20: Vancouver, BC @ Commodore
2/21: Kamloops, BC @ Blue Grotto
2/22: Calgary, AB @ Republik
2/23: Edmonton, AB @ Starlite
2/25: Winnipeg, MB @ West End Cultural Centre
2/26: Minneapolis, MN @ 7th Street Entry
2/27: Chicago, IL @ Subterranean
2/29: Columbus, OH @ The Basement
3/01: Toronto, ON @ The Mod Club
3/03: Brooklyn, NY @ Music Hall Of Williamsburg
3/05: New York, NY @ Bowery Ballroom
3/07: Washington, DC @ 930 Club
3/08: Hoboken, NJ @ Maxwell's 
3/09: Boston, MA @ Middle East
3/10: Philadelphia, PA @ Union Transfer