Dark Star Orchestra Announce Winter Tour 2013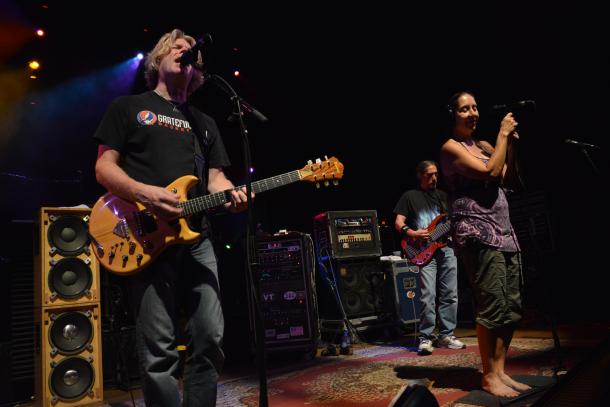 After kicking off our Winter Tour 2013 in Minneapolis, DSO will continue through the Midwest with multiple stops in Wisconsin before hitting Chicago and Detroit. From there they'll wind a trail through Indiana, Missouri, Kentucky, Ohio and Western Pennsylvania, before heading southbound, hitting Virginia, North Carolina and Georgia on our way to Florida. Then DSO will shake off the winter chill for six shows before we spin our compass toward Jamaica. Tickets for most shows are available now at DSOtix, and all the tour info is here.
We imagine that you know all about DSO's first Jamaican Jam In The Sand, March 1-5, 2013, in Negril, Jamaica. For those of you who 'watch each card you play and play it slow' we have a deal for you. Buy your 2013 Jam in the Sand ticket package by October 31 and join members of Dark Star Orchestra on an exclusive hike to Jamaica's #1 Eco Tourist attraction, Mayfield Falls plus be automatically entered to win an extra night on us inclusive of all food and beverages! You must purchase your ticket by calling (888) 423-7738 and tell them you want in on the Dark Star Waterfall Trip! Complete Jam In The Sand ticket info can be found here.
TOUR DATES
DATE
VENUE
CITY

TICKETS

 

Fall Tour 2012

11/15
Danforth Music Hall
Toronto, ON

TICKETS

11/16
Town Ballroom
Buffalo, NY

TICKETS

11/17
Town Ballroom
Buffalo, NY

TICKETS

11/18
Calvin Theatre
Northampton, MA
 
11/20
Paramount Center For The Arts
Peekskill, NY

TICKETS

11/21
Penn's Peak
Jim Thorpe, PA

TICKETS

11/23
Best Buy Theater
New York, NY

TICKETS

11/24
Best Buy Theater
New York, NY

TICKETS

11/25
Westcott Theater
Syracuse, NY

TICKETS

11/27
Shea Center For The Performing Arts
Wayne, NJ

TICKETS

11/28
Jefferson Theater
Charlottesville, VA

TICKETS

11/30
9:30 Club
Washington, DC

TICKETS

12/01
9:30 Club
Washington, DC

TICKETS

12/03
Lebanon Opera House
Lebanon, NH

TICKETS

12/05
The Egg
Albany, NY

TICKETS

12/06
State Theater
Portland, ME

TICKETS

12/07
The Dome at Oakdale
Wallingford, CT

TICKETS

12/08
Lowell Memorial Auditorium
Lowell, MA

TICKETS

Cosmic New Year's 2012-12

12/28
Ram's Head Live
Baltimore, MD

TICKETS

12/29
Electric Factory
Philadelphia, PA

TICKETS

12/30
Paramount Theatre
Huntington, NY

TICKETS

12/31
Paramount Theatre
Huntington, NY

TICKETS

Winter Tour 2013

01/31
First Avenue
Minneapolis, MN

TICKETS

01/31
Barrymore Theatre
Madison, WI

 

02/01
Pabst Theater
Milwaukee, WI

TICKETS

02/02
The Vic
Chicago, IL

 

02/04
Majestic Theatre
Detroit, MI

TICKETS

02/06
Buskirk-Chumley Theater
Bloomington, IN

 

02/07
The Pageant
St. Louis, MO

TICKETS

02/08
Madison Theater
Covington, KY

 

02/09
Newport Music Hall
Columbus, OH

TICKETS

02/10
House Of Blues
Cleveland, OH

TICKETS

02/12
Carnegie Music Hall Of Homestead
Munhall, PA

TICKETS

02/14
The National
Richmond, VA

TICKETS

02/15
Orange Peel
Asheville, NC

TICKETS

02/16
The Fillmore
Charlotte, NC

TICKETS

02/17
Variety Playhouse
Atlanta GA

TICKETS

02/19
Vinyl Music Hall
Pensacola, FL

TICKETS

02/21
Ferguson Hall
Tampa, FL

TICKETS

02/22
Phillips Center
Gainesville, FL

 

02/23
House Of Blues
Lake Buena Vista, FL

TICKETS

02/24
Freebird Live
Jacksonville, FL

TICKETS

02/26
Revolution Hall
Fort Lauderdale, FL

TICKETS

Dark Star's Jamaican Jam In The Sand

03/01
Breezes Grand Resort & Spa
Negril, Jamaica

Reservations

03/02
Breezes Grand Resort & Spa
Negril, Jamaica

Reservations

03/03
Breezes Grand Resort & Spa
Negril, Jamaica

Reservations

03/04
Breezes Grand Resort & Spa
Negril, Jamaica

Reservatio