Dark Star Orchestra Announces NYE Run + 2000th show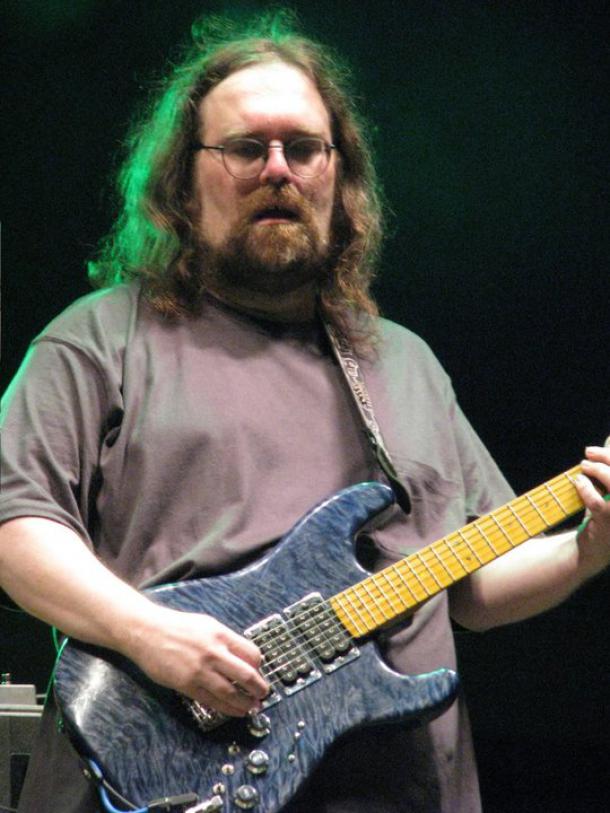 Dark Star Orchestra has announced a pair of year closing shows at Montclair, NJ's Wellmont Theatre on December 30 and 31. The group's Cosmic New Year's Eve Celebration will feature three sets a night: on December 30, the group will kick off its three-set show with a special, rare acoustic set and on December 31 the group will recreate classic sets from the '60s, '70s and '80s. VIP Tickets for the December 31 performance include an exclusive poster, access to VIP section with private bar and an express line into venue. The members of Dark Star Orchestra will perform their first ever recreation of a historic Jerry Garcia Band set, with special guest Donna Jean Godchaux (who sang with Jerry Band at the original show) at The Werk Out Festival this weekend in Bellefontaine, OH.
While the Grateful Dead performed approximately 2300 concerts over 30 years, the Dark Star Orchestra is closing in on their 2000th show, in just over 14 years, about half the time it took the Dead to complete that cycle. DSO's 2000th performance will take place at the State Theatre in Ithaca, NY on November 19. Additional tour highlights include a free performance at the Hardly Strictly Bluegrass Festival in San Francisco; a two-night stand in NYC at the Nokia Theater over Thanksgiving weekend; an all-acoustic show at the intimate Bearsville Theater in Woodstock, NY; a two-night stand at the 930 Club in Washington DC, and many more.  Details on these special shows are forthcoming and tickets for all DSO's fall tour and NYE Run shows are available at www.darkstarorchestra.net.
The upcoming Dark Star Orchestra tours include the following performances:
| | | | |
| --- | --- | --- | --- |
| 9/10/2011 | WERK-OUT FESTIVAL | BELLEFONTAINE | OH |
| 9/22/2011 | House of Blues San Diego | SAN DIEGO | CA |
| 9/23/2011 | EL REY THEATRE | LOS ANGELES | CA |
| 9/24/2011 | PRIVATE PARTY | TOPANGA | CA |
| 9/25/2011 | MAJESTIC VENTURA THEATER | VENTURA | CA |
| 9/27/2011 | YOST THEATER | SANTA ANA | CA |
| 9/29/2011 | River Theater | GUERNEVILLE | CA |
| 10/1/2011 | REGENCY BALLROOM | SAN FRANCISCO | CA |
| 10/2/2011 | HARDLY STRICTLY BLUEGRASS FESTIVAL | SAN FRANCISCO | CA |
| 10/4/2011 | Montbleu Resort and Casino | LAKE TAHOE | NV |
| 10/6/2011 | THE DEPOT | SALT LAKE CITY | UT |
| 10/7/2011 | AGGIE THEATER | FORT COLLINS | CO |
| 10/8/2011 | FILLMORE AUDITORIUM | DENVER | CO |
| 10/9/2011 | Pikes Peak Center | COLORADO SPRINGS | CO |
| 10/11/2011 | CAIN'S BALLROOM | TULSA | OK |
| 10/13/2011 | HOUSE OF BLUES DALLAS | DALLAS | TX |
| 10/14/2011 | Austin City Limits Live At Moody Theater | AUSTIN | TX |
| 10/15/2011 | HOUSE OF BLUES HOUSTON | HOUSTON | TX |
| 11/17/2011 | WILBUR THEATRE | BOSTON | MA |
| 11/18/2011 | CALVIN THEATRE | NORTHAMPTON | MA |
| 11/19/2011 | STATE THEATRE | ITHACA | NY |
| 11/21/2011 | HARRO EAST BALLROOM | ROCHESTER | NY |
| 11/22/2011 | STATE THEATER | NEW BRUNSWICK | NJ |
| 11/23/2011 | PENN'S PEAK | JIM THORPE | PA |
| 11/25/2011 | BEST BUY THEATER | NEW YORK | NY |
| 11/26/2011 | BEST BUY THEATER | NEW YORK | NY |
| 11/27/2011 | BEARSVILLE THEATER | WOODSTOCK | NY |
| 11/29/2011 | STATE THEATRE | STATE COLLEGE | PA |
| 11/30/2011 | CARNEGIE MUSIC HALL | MUNHALL | PA |
| 12/1/2011 | JEFFERSON THEATER | CHARLOTTESVILLE | VA |
| 12/2/2011 | 9:30 CLUB | WASHINGTON | DC |
| 12/3/2011 | 9:30 CLUB | WASHINGTON | DC |
| 12/5/2011 | CAPITOL CENTER | CONCORD | NH |
| 12/7/2011 | LUPO'S | PROVIDENCE | RI |
| 12/8/2011 | KLEIN AUDITORIUM | BRIDGEPORT | CT |
| 12/9/2011 | Palace Theatre | ALBANY | NY |
| 12/10/2011 | STATE THEATRE | PORTLAND | ME |
| 12/28/2011 | RAM'S HEAD LIVE | BALTIMORE | MD |
| 12/29/2011 | ELECTRIC FACTORY | PHILADELPHIA | PA |
| 12/30/2011 | WELMONT THEATER | MONTCLAIR | NJ |
| 12/31/2011 | WELMONT THEATER | MONTCLAIR | NJ |