Dead.net Now Shipping Dave's Picks Volume 2
Submitted by dead.net on Tue, 05/01/2012 - 13:41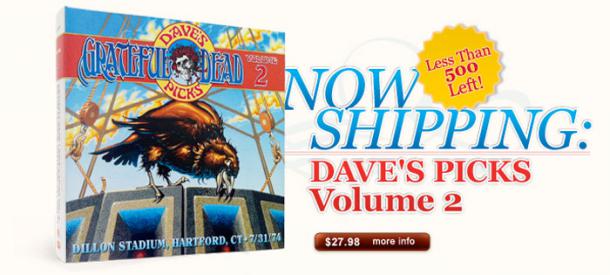 We're waving that flag for Dave's Picks Volume 2. Now shipping, this individually-numbered limited-edition release features the complete show from Dillon Stadium, Hartford, CT, 7/31/74. One of just a handful of three-set shows the Dead played in '74, this three-disc set features more than three-and-a-half hours of passionate playing and majestic melodies, all piped through the band's mammoth Wall of Sound.
Dave's Picks Volume 2 has been mastered to HDCD specs from the original vault tapes by Jeffrey Norman, and includes a booklet containing period photos and an essay about the show. The Digipak is made of 100% recycled and PCW materials on heavier paper stock due to high demand.
And we've got less than 500 copies left of our limited-edition of 12,000, so grab a copy before it's too late!