Dead.net proudly presents The Family Dog
Submitted by mike on Tue, 06/14/2011 - 04:01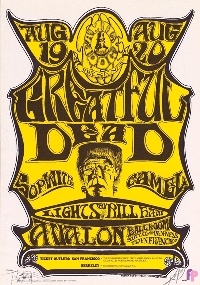 They may have thrown some epic parties, but it's The Family Dog's innovative art that remains their true legacy. In 1966, free-spirited rock promoter Chet Helms teamed up with a commune of hippies to create The Family Dog. The collective put on some of the greatest rock concerts of all time. To spread the word about its live events, they hand-picked a small army of graphic artists to design promotional posters and handbills. The most influential of the group - Rick Griffin, Alton Kelly, Victor Moscoso, Stanley Mouse, and Wes Wilson - became known as the "San Francisco Five." The San Francisco Five would go on to produce some of the most iconic and memorable imagery in the history of rock and roll. Their art reflects the bold experimental freedom of the era, serving as a guidepost for future generations who long for peace, love, and understanding.
Bring history into your own house with our extremely limited, signed, and numbered collector's edition lithographs.
Explore the galleries here.