Debut Album From St. Paul & The Broken Bones February 18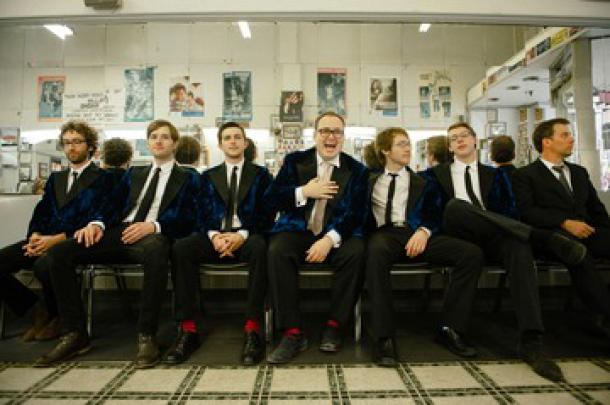 Half The City (Single Lock/Thirty Tigers) the full-length debut from the explosive Birmingham, AL soul sextet St. Paul & The Broken Bones is set for release on February 18. St. Paul & The Broken Bones has already garnered much attention due to their high-energy live performances, led by charismatic front man Paul Janeway. The group's sweat-soaked, take-no-prisoners style has converted many, including Paste Magazine, who named St. Paul & The Broken Bones one of their "2013 Best Of What's Next" artists, and NPR Music, who included the album in their "Under The Radar Albums Preview". Take a look at this Our Vinyl clip of "Call Me" which showcases some of Janeway's dynamics as well as the rhythm and power the young Broken Bones possess.
Half The City oozes with key elements of Memphis soul, Muscle Shoals R&B and the Motown experience, which lay solid ground for Janeway's expressive vocals. Raised in a Pentecostal-leaning church in Alabama, Janeway studied to be a preacher until he was 18 years old. Little did he know that his years in front of congregations would evolve into a fully charged, electric stage persona. However, this is no shtick. St. Paul & The Broken Bones also write great songs. Tracks such as "Like A Mighty River", "Don't Mean A Thing" and "Sugar Dyed" overflow with infectious grooves, old school horn arrangements shout-out-loud choruses that exude sheer joy. The soulful blues of "Torn Up" and "Broken Bones and Pocket Change" hearken back to 1960's Stax, while still sounding fresh and vibrant.
Half The City was produced by Ben Tanner of Alabama Shakes, who co-founded Single Lock Records with John Paul White (Civil Wars) and Will Trapp. The album's 12 tracks were recorded live to tape at the Nutthouse in Muscle Shoals, AL and mixed at the legendary FAME Studio A. Special guests include Al Gamble (piano/organ/wurlitzer), Daniel Stoddard (pedal steel) and Tanner (piano/organ/background vocals).
St. Paul & The Broken Bones was founded by Janeway and bassist Jesse Phillips, who met in a previous band playing rock covers. Guitarist Browan Lollar, drummer Andrew Lee, trumpeter Allen Bransetter and trombonist Ben Griner fill out the ensembles muscular sound. St. Paul & The Broken Bones provide a high-spirited, uplifting experience not to be missed, answering the question, YES, you can get a witness!