DEERHOOF - New 7"s, Reissues, Congotronic Vs. Rockers News & More!
Submitted by mike on Sat, 06/18/2011 - 23:24
Deerhoof
's
Milk Man
is being reissued on vinyl in celebration of the band's upcoming All Tomorrow's Parties performance of the album this July in London (alongside
The Flaming Lips
and
Dinosaur Jr.
).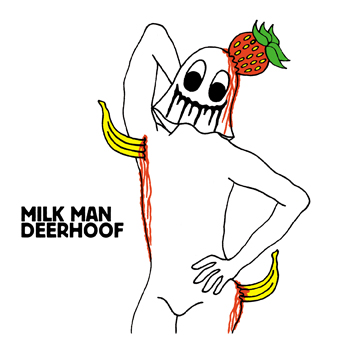 A 180-gram strawberry vinyl version will be available in stores on July 5
th
and limited to 1000 copies.
The starting point for
Milk Man
was a cartoon character created by Japanese artist Ken Kagami, a longtime friend of
Deerhoof
vocalist Satomi Matsuzaki.
In contrast to the earnest guitar rock that predominated on their previous album
Apple O'
,
Milk Man
featured a broad palette of orchestral colors, echoes of music theater and camp, polished and gaudy arrangements, Stravinskian harmonies, and a more stylized, anonymous playing style resulting partly from recording most of the instruments at separate times rather than playing together as a band, and partly from many of the arrangements being created in a computer.
Critical praise for
Milk Man
came notably from
NME
and
Spin
, and the song "Milk Man" was chosen in 2009 as one of
Pitchfork
's top tracks of the decade.
Polyvinyl has a special pre-order package deal on these releases. Visit
PolyvinylRecords.com
for more information.
jun 26 - Brussels, Belgium - Couleur Cafe Festival (Congotronics Vs. Rockers tour)
jun 30 - Utrecht, Netherlands - Le Guess Who at Tivoli (Congotronics Vs. Rockers tour)
jul 01 - London, UK - Performing Milk Man at Alexandra Palace (w/ The Flaming Lips performing The Soft Bulletin and Dinosaur Jr performing Bug)
jul 02 - Roskilde, Denmark - Roskilde Festival (Congotronics Vs. Rockers tour)
jul 03 - Berlin, Germany - HKW (Congotronics Vs. Rockers tour)
jul 06 - Metz, France - Place de la Republique (Congotronics Vs. Rockers tour)
jul 09 - Paris, France - Bataclan (Congotronics Vs. Rockers tour)
jul 12 - London, England - The Barbican (Congotronics Vs. Rockers tour)
jul 14 - Benicassim, Spain - Benicassim Festival (Congotronics Vs. Rockers tour)
jul 17 - Carhaix, France - Vielles Charrues Festival (Congotronics Vs. Rockers tour)
jul 21 - Nyon, Switzerland - Paleo Festival (Congotronics Vs. Rockers tour)
jul 23 - Sines, Portugal - FMM Festival (Congotronics Vs. Rockers tour)
jul 30 - Niigata, Japan - Fuji Rock Festival (Congotronics Vs. Rockers tour)
oct 02 - Asbury Park, NJ - ATP - Asbury Park Convention Hall & Paramount Theatre (w/ Portishead, Mogwai, Battles, Earth, and more