Del McCoury and The Preservation Hall Jazz Band Celebrate Mardi Gras
Submitted by mike on Wed, 03/09/2011 - 00:49
In honor of Mardi Gras this week, Bluegrass Legend Del McCoury and the Preservation Hall Jazz Band have shared the song "One More 'Fore I Die" off their upcoming collaborative album, American Legacies (out April 12th).  Click HERE to stream/download the track, which premiered at NPR yesterday.  The two also filled the historic Preservation Hall yesterday for a special performance on Lundi Gras Day. Today they will team up again for the Preservation Hall Parade that occurs annually on Mardi Gras.  The parade will gather on the corner of Dauphine and Frenchmen Streets and will commence at 2:00pm.  The parade route will conclude at Preservation Hall.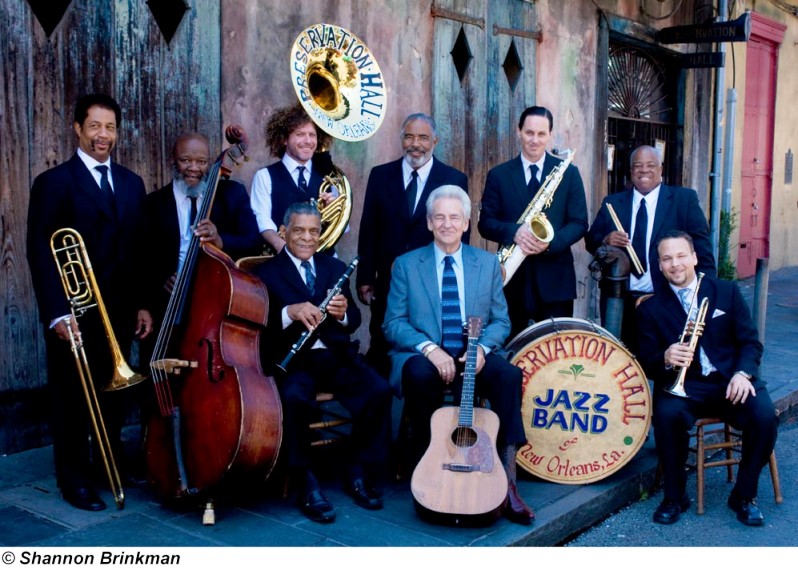 Del and the PHJB will also celebrate the advance release of a special Mardi Gras themed vinyl edition of American Legacies. Manufactured exclusively for Record Store Day (April 16) 2011, this special edition vinyl is green on one side and gold on the other, featuring a purple label.  Limited to 1000 copies, a small number have been made available for sale exclusively at Preservation Hall during this very special event.
About American Legacies:
American music fans have an unprecedented opportunity to hear two masterful groups explore the common ground where bluegrass and jazz meet when the Del McCoury Band and the Preservation Hall Jazz Band release their collaborative American Legacies project on April 12th via McCoury Music and Preservation Hall Recordings.  Inspired by the success of the Del McCoury's participation on 2010's PRESERVATION, a PHJB project made with multiple artists to benefit New Orleans' unique Preservation Hall venue and its Music Outreach Program, the set offers a dozen songs filled with deep respect and joyful virtuosity.  Complementing the release, the two groups have announced a joint tour that will feature them performing on their own and together in a groundbreaking concert experience.
American Legaciesis a no-holds-barred tour of songs and sounds that sum up the simultaneous (and often intersecting) histories of two distinctively American musical forms—the jazz that has drawn music lovers from around the world to New Orleans for more than a century, and the "hillbilly jazz" of bluegrass, created more than 60 years ago by Del McCoury's one-time employer, Bill Monroe and his Blue Grass Boys.
Available Everywhere on April 12, 2011
Del/PHJB Tour Dates:
March 19 - Boston, MA
March 27 - Columbus, GA
April 9 - Tucson, AZ
April 13 - St. Charles, MO
April 14 - Lawrence, KS
April 15 - Appleton, WI
April 16 - Napierville, IL
April 17 - Fayetteville, AR
April 19 - Wilmington, NC
May 12 - Los Angeles, CA
May 27 - DelFest, Cumberland, MD
June 10 - Bonnaroo, Manchester, TN
July 7 - Winnipeg Folk Fest
August 6 - Edmonton Folk Fest