The Devil Makes Three Announce 2012 Winter Tour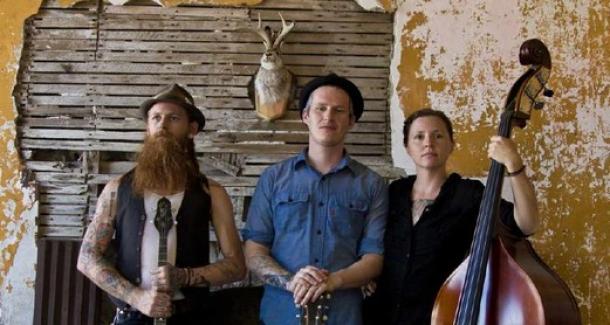 The Devil Makes Three
continue their seemingly never ending tour with new dates that will take them from Vermont to Texas playing with Brown Bird and Flogging Molly.  The Devil Makes Three's true power is best experienced live and their latest release Stomp and Smash is a live LP recorded over a two night, sold out stand at the Mystic Theater in Petaluma by Kark Derfler, best known for his work with Tom Waits.
Give a listen to the rousing
"This Life"
and check out a live video of
"Old Number 7"
from the Stomp and Smash LP  and marvel at their consistently tight harmonies as they perform an intimate acoustic version of
"Do Wrong Right."
Tour dates:
Feb 14 - Higher Ground - Burlington, VT *
Feb 15 - The Haunt - Ithica, NY *
Feb 16 - Horseshoe Tavern - Toronto, ON    
Feb 17 - The Fillmore - Detroit, MI ^^
Feb 18 - Aragon Ballroom - Chicago, IL ^^
Feb 19 - House of Blues - Cleveland, OH ^^
Feb 21 - House of Blues - Boston, MA ^^
Feb 22 - Hammerstein Ballroom - New York, NY ^^
Feb 23 - The Note - West Chester (Philadelphia), PA *
Feb 24 - The Fillmore - Silver Spring, MD ^^
Feb 25 - House of Blues - Myrtle Beach, SC ^^
Feb 26 - Fillmore - Charlotte, NC ^^
Feb 28 - Orange Peel - Asheville, NC ^^  
Feb 29 - House of Blues - Orlando, FL  ^^ 
Mar 2 - House of Blues - New Orleans, LA ^^  
Mar 3 - House of Blues - Houston, TX  ^^
Mar 4 - House of Blues - Dallas, TX ^^
Mar 6 - George's Majestic - Fayetteville, AR    
Mar 8 - Masquerade Hell Stage - Atlanta, GA    
Mar 9 - Workplay Theatre - Birmingham, AL    
Mar 11 - 3rd & Lindsley - Nashville, TN   
Mar 15 - The Handlebar - Greenville, SC    
Mar 16 - Cat's Cradle - Carrboro, NC   
w/ Brown Bird *
w/ Flogging Molly ^^