Devil Makes Three front man Pete Bernhard books solo gigs
Submitted by mike on Fri, 08/14/2009 - 03:16
After opening for Sea Sick Steve in NYC last week, Pete's solo performances are a far bit different from his primary band but one key element remains the same - his defining vocal style, unique phrasing and his distinctive point of view.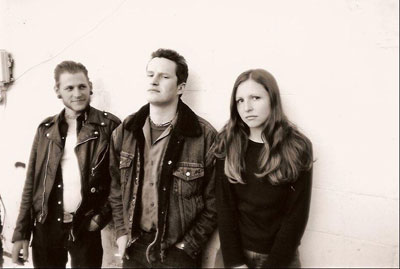 All the while, The Devil Makes Three "Do Wrong Right" continues to gain momentum.   After selling out shows all across the country via word of mouth from fans and friends, Do Wrong Right garners its 16th straight week on in the Top 10 of the Billboard Bluegrass Charts and the album continues to sell strongly each week.  The album holds steadily in heavy rotation on the college charts along with charting on the Americana/Jamband Chart.

Check out The Devil Makes Three LIVE on KEXP Performing "Do Wrong Right."  The Devil Makes Three Live @ KEXP was released digitally on 8.11. The EP includes four tracks played live in the studio of the famous Seattle based radio station and an interview.
The Devil Makes Three kicks off their Fall tour with gigs at Bumbershoot and Earthdance Peace Festival.
The Devil Makes Three quite possibly are the best band that you have never heard of. Constantly on tour, selling out dates across the country and in their neck of the woods on the West Coast, this band is busy packing their shows night after night, largely thanks to word of mouth.
Over the past 7 years, The Devil Makes Three have garnered fans the old school way - playing a city, making friends, conquering fans and moving on. When they hit the next town, venues are packed with folks that heard from a friend in a city that the band had played before.
Because of this, The Devil Makes Three have established thousands of die-hard and devout fans.

 
PETE BERNHARD SOLO DATES
September 15- Blue Lamp- Sacramento, CA
September 16- Rickshaw Shop, San Francisco, CA
September 17- The Crepe Place- Santa Cruz, CA
September 18- Café Coda, Chico, CA
September 19th- Stillwater, Ashland, OR


 
DEVIL MAKES THREE TOUR DATES!
September 5 - Truckee River Park Amphitheater - Truckee, CA
Sept 7th - Bumbershoot Festival - Seattle, WA
Sept 27 - Earthdance Peace Festival - Black Oak Ranch - Laytonville, CA
Oct 14 - Brick By Brick - San Diego, CA
Oct 15 - Echoplex - Los Angeles, CA
Oct 16 - Downtown Brewing Company - San Luis Opisbo, CA
Oct 17 - The Catalyst - Santa Cruz, CA
Oct 18 - The Phoenix Theater - Petaluma, CA
Oct 21 - The Historic Ashland Armory - Ashland, OR
Oct 22 - WOW Hall - Eugene, OR
Oct 23 - Wonder Ballroom - Portland, OR
Oct 24 - El Corazon - Seattle, WA
Nov 7 - Middle East Upstairs - Cambridge, MA