DiscoverHope Fund Present: Band Together for Hope
Submitted by press on Tue, 03/30/2010 - 20:43
Come enjoy the music and contribute to the global effort to end poverty for some of the 3 billion people who live on less than $2 a day and are trapped in poverty so they cannot adequately feed, clothe, or shelter themselves or their families. DiscoverHope Fund (DHF) is a 501(c)3 promoting abundance for women and their families in economic poverty through microcredit and entrepreneurial training.  DHF's "Microcredit Plus" model implements a dual approach to poverty alleviation—providing microloans and entrepreneurial training to help loan recipients build their businesses. DHF asks loan recipients what they need to build and sustain their business; then it answers with business trainings, literacy classes, artisan workshops and more. A percentage of ticket sales and funds from an on-site opportunity drawing will go toward our work to create a new consciousness of prosperity that women can pass onto their children, families, communities, society, and this world. DiscoverHope is proud to present an evening of great music starring Americana without Borders allstars – Great American Taxi.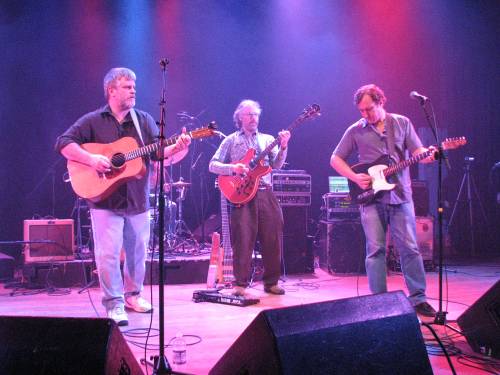 In the past five years, Great American Taxi has become one of the best-known headliners on the jam band circuit. Their uninhibited sound is a swinging concoction of swampy blues, progressive bluegrass, funky New Orleans strut, Southern boogie, honky tonk country, gospel, and good ol' fashioned rock 'n' roll. Great American Taxi was born when singer, guitarist, and mandolin player Vince Herman of Leftover Salmon joined keyboard player and singer Chad Staehly for a superstar jam to benefit the Rainforest Action Group in Boulder, in March of 2005. "We put together a dream band of the best local musicians for a one-off gig," Herman recalls. "It worked so well we had to do it again, and again, and again." Great American Taxi quickly evolved into one of the best country-, rock-, and bluegrass- influenced jam bands in the land, masterfully blending acoustic and electric instruments into music they call "Americana Without Borders."
Great American Taxi has been equated with roots rockers like the New Riders of the Purple Sage, Grateful Dead, Wilco, Uncle Tupelo, The Byrds, and Little Feat. Herman finds the comparisons flattering. "We're definitely connected to all the acts in the country/rock spectrum, as well as the spirit of Gram Parsons and Woody Guthrie," he says. "We want to address the issues appropriate to our times, while making music that gets people up and moving."
The benefit will also feature an amazing opportunity drawing with a grand prize of 2 tickets to 2010 10th Anniversary Summer Camp Music Festival in Chillicothe, IL as well as other prizes such as signed and unsigned rock artwork, local gift certificates, and other amazing prices to be announced.
Who: Great American Taxi, Chicago Farmer & Farmaggedon
Where: Coconut Louie's 2303 E. Washington Bloomington, IL
When: Thursday, April 15th 2010
WHY: To support Discover Hope Fund
COST: $8