The Dixon-Rhyne Project
Submitted by press on Sun, 07/06/2008 - 12:08
Reinvention, the new album and experiment from Rob Dixon and Melvin Rhyne, is a melding of the bebop jazz organ quartet with world music and jam. Though jazz has always been steeped in improvisation, it has had periods where its intricacies have been ingrained into composition on the page with little room for individual color or influence. This album has touches of the San Francisco cool jazz scene and free bop where a jazz combo moves with a melody like a patch of wild mint around a garden, finding new soil and nutrients for its growth.  It's an organic thing, and Dixon and Rhyne are showing that age (whether young or old) isn't any barrier to creating something called jazz.
Rob Dixon, who is comfortable with tenor and alto saxophones, is 37 years old. Born in Georgia, he studied jazz at Indiana University and then went on to New York to work as a side man with The Count Basie Orchestra, The Ellington Band, Rufus Reid, Tony Bennett, and Ray Charles. When he returned to Indianapolis, he formed a trio with drummer Kenny Phelps and organist Brad Whitely. They combined straight jazz with funk influences from Soulive and released an album, "What Things May Be," in 2006.
It was around this time that Dixon met Melvin Rhyne, who plays Hammond B3 organ and Mini Moog. Over three decades Dixon's senior, Rhyne had a history in jazz. Though he was a self-taught jazz pianist, he found work with up-and-coming jazz groups. In the mid 50s, he played with the reed multi-instrumentalist Rahsaan Roland Kirk and switched to organ at that time. Rhyne collaborated with jazz guitar legend Wes Montgomery in the early 60s. Soon after, Rhyne moved to Wisconsin and became active in the local music scene. In 1990, he returned to recording and did a record with guitarist Herb Ellis and trumpeter Brian Lynch. He even did a quartet session with Joshua Redman. When he moved back to his hometown of Indianapolis, he and Dixon seemed fated to work together. Now, 71 years old, Rhyne is taking his hard-bop organ and adding his velvet touches to this new project.
Dixon asked his trio drummer, Kenny Phelps, to join the group. His solid drumming has made him a popular session player. Finally filling out the quartet is an unexpected player. Fareed Haque, the sensational guitarist and sitar player with Garage Mahal, came aboard to add color with several guitars.
For Rhyne, this might have been the biggest stretch, to come into a jam-rich environment with the likes of Haque, but Rhyne clearly shines in this new album, putting a mark of jazz authority to the project. His organ work is varied, lively, and inventive. The improvisation that Dixon calls forth from his saxophones sets a benchmark for the rest of the quartet, and Haque, in particular, excels in meeting that level of creativity. And Kenny Phelps keeps it all on track.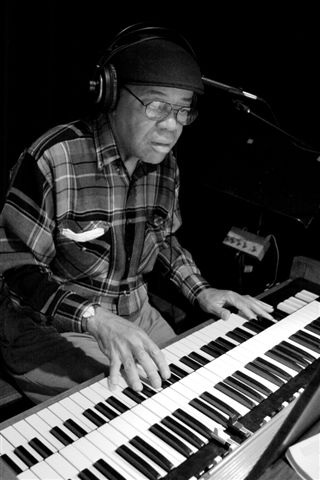 The quartet is joined by Salar Nader on tablas on "Shadow and Light" and "Tomorrow Sierra." These two tunes are perhaps the most risk-taking for a jazz ensemble (but not for a jam group with strong jazz roots). "Shadow and Light" is reminiscent of the work of San Francisco percussionist Babatunde Lea and his quartet featuring saxophonist Richard Howell. Though the tablas add an Eastern feel, rather than Afro-Cuban as in Lea's work, they are not as pronounced as in "Tomorrow Sierra." "Shadow and Light" is more jazz whereas "Tomorrow Sierra" has a pronounced world sound with a trippy edge to the jazz.
All of the tunes, except one, on this CD are written by Dixon but enhanced by the quartet. The only cover, "Chit'lins Con Carne" is a classic gleaned from jazz guitarist Kenny Burrell's 1967 recording, Midnight Blue. It's a soul jazz tune where Phelps' gospel backbeat carries the quartet along, allowing Haque to explore this old chestnut.
Throughout the entire album, the sax, organ, and guitar all take turns at soloing, without overstepping anyone's place in the group. No one outshines anyone else. They work as a cohesive whole, creating a real conversation between musicians and producing some of the best jazz I've heard in a long time.
Reinvention is an album to sit and savor. If you're a seasoned jazz enthusiast, you'll love the freshness in this album. If you're knowledge of jazz comes from jam, this will be one to add to your collection. It is one of the best new albums out that combines the long legacy of jazz with the richness of new innovators.
The Dixon-Rhyne Project is something to try to catch live. They are playing at the Jazz Kitchen in Indianapolis on July 9 and continue to play in the city when they can.