Django Django Announce 2013 Spring Tour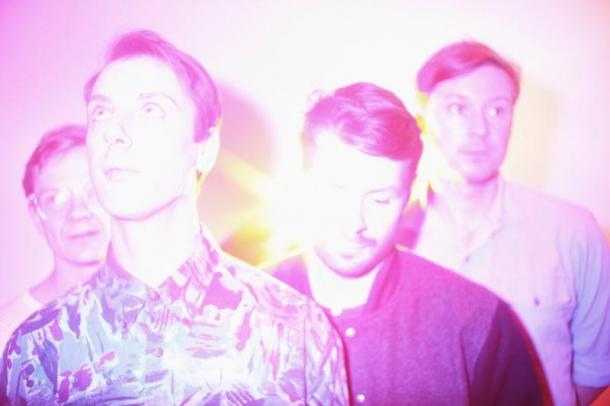 Following a sold-out tour of select US cities this fall, British four-piece Django Django will return stateside for a coast-to-coast tour in support of their self-titled, debut album, out now on Ribbon Music. The band will make first time appearances in Philadelphia, Washington DC, Boston, Portland amongst many others. Catch Django Django this spring and witness why they are becoming a favorite of so many. This band has a very bright future ahead!  
Django Django's US tour was announced earlier this morning via Stereogum, which also premiered The Very Best remix of "Life's A Beach." Yesterday, the "Life's A Beach" video,directed by Isaac Eastgate, debuted onEntertainment Weekly. A special "Life's A Beach" single bundle, featuring The Very Best Remix plus an additional remix by Priests of Sound by Steve Mason is now available on iTunes.
Finally, XPN will be broadcasting Django Django's World Café interview and performance today. Stream it live from 2-4pm ET here or find it online later, here.
DJANGO DJANGO TOUR DATES:
(new dates in bold)
Sat. Dec. 8 - Lisbon, PT @ Vodafone MEXE Festival
Fri. Dec. 21 - London, UK @ Shepeherds Bush Empire
Sat. Dec. 29 - Lorne Victoria, AU @ Falls Festival
Mon. Dec. 31 - Marion Bay, Tasmania, AU @ Falls Festival
Tue. Jan. 1 - Sydney, AU @ Field Day Festival
Fri. Jan. 4 - Busselton, AU @ Southbound Festival
Thu. Jan. 10 - Brisbane, AU @ The Zoo
Fri. Jan. 11 - Sydney, AU @ The Metro
Sat. Jan. 12 - Melbourne, AU @ The Hi-Fi
Thu. Feb. 7 - Newcastle, UK @ Academy *
Fri. Feb. 8 - Manchester, UK @ Academy 1 *
Sat. Feb. 9 - Leeds, UK @ Academy *
Mon. Feb. 11 - Glasgow, UK @ Academy *
Tue. Feb. 12 - Nottingham, UK @ Rock City *
Wed. Feb. 13 - Liverpool, UK @ Academy *
Fri. Feb. 15 - Norwich, UK @ UEA *
Sat. Feb. 16 - Birmingham, UK @ Academy *
Sun. Feb. 17 - Cardiff, UK @ Uni Great Hall *
Tue. Feb. 19 - Bristol, UK @ Academy *
Wed. Feb. 20 - Bournemouth, UK @ Academy *
Thu. Feb. 21 - Brighton, UK @ Dome *
Sat. Feb. 23 - Brixton, UK @ Academy *
Wed. March 6 - Brooklyn, NY @ Music Hall of Williamsburg
Thu. March 7 - Brooklyn, NY @ Music Hall of Williamsburg
Fri. March 8 - Philadelphia, PA @ Union Transfer
Sat. March 9 - Washington, DC @ 9:30 Club
Mon. March 11 - Boston, MA @ Paradise Rock Club
Tue. March 12 - Toronto, ON @ Opera House
Wed. March 13 - Columbus, OH @ Newport Music Hall
Fri. March 15 - Chicago, IL @ Cabaret Metro
Sat. March 16 - Minneapolis, MN @ First Ave
Tue. March 19 - Seattle, WA @ Neptune Ballroom
Wed. March 20 - Portland, OR @ Doug Fir Lounge
Fri. March 22 - San Francisco, CA @ Public Works
Sat. March 23 - Los Angeles, CA @ The Fonda Theatre
* NME Awards Tour w/ Miles Kane, Palma Violets, Peace