Drink Up Buttercup to Drop First Full-Length Album
Submitted by press on Thu, 02/11/2010 - 03:16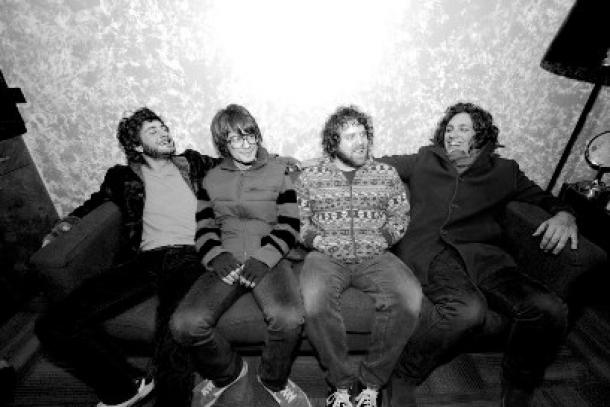 Philadelphia pop quartet
Drink Up Buttercup
will release their first full-length album,
Born and Thrown on a Hook
, on March 23rd through Yep Roc Records.
Drink Up Buttercup earned the attention of fans with the release of their debut 7" Sosey & Dosey on Kanine Records, which was described as "Beatle-esque but in a kitchen sink kind of way," (Brooklyn Vegan) and "60's psychedelic carnival" (Stereogum). The band – comprised of Jim Harvey (vocals, guitar), Ben Money (bass, organ), Mike Cammarata (drums) and Farzad Houshiarnejad (keyboards) – furthered their notoriety through their bombastic live shows with The New York Times going so far to say that the band "mesmerizes and clobbers live."
Drink Up Buttercup's first full album navigates a surrealistic geography somewhere between the grittiness of a Tom Waits' song and the fairy tales of Han Christian Anderson. Produced by Philadelphia's own Bill Moriarty (Dr. Dog, Man Man) and mixed by Rusty Santos (Animal Collective, Owen Pallett, Panda Bear), Born and Thrown on a Hook demonstrates a preoccupation with flawed protagonists, drunks and star-crossed lovers.
"We knew we were making something great and we all fought about what added to the greatness and what detracted," Moriarty said. "We tried every way possible to make recordings: live, one at a time, analog tape, computer... in the end all of them worked and none was the solution."
"This is an album I'm glad to have been a part of," Moriarty continued. "It was a powerful experience with all the attractive and repellent parts of being alive rolled up in it."
In anticipation of
Born and Thrown on a Hoo
k,
Drink Up Buttercup
is releasing a
live video document
of every song on the upcoming album each week via
www.drinkupbuttercup.com
, culminating on March 23rd. Each video is stripped of studio trickery & audio comfort zones, embracing the strange surroundings they find themselves in - basements filled with balloons, children's playgrounds and old folks homes.