The Drums' Internationally Acclaimed Debut Out Today
Submitted by mike on Wed, 09/15/2010 - 23:46
Following a massive wave of critical acclaim, New York City's own The Drums release their state-side debut on Downtown Records today!  Hailed by Rolling Stone as "one of the best indie pop debuts of the year." the band is featured on Windows Media Guide and Last.FM Discover today.  The full album is streaming on AOL Spinner and a new special b-side "When I Come Home" is RCRD LBL's "RCRD of the Day" MP3 download today!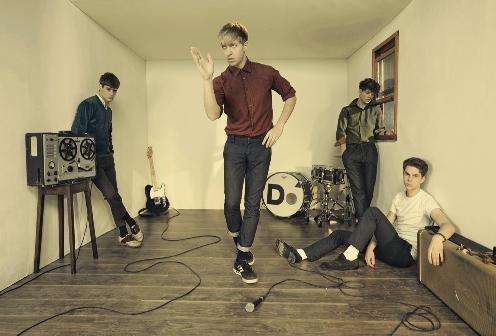 The Drums' spellbinding sound takes inspiration from elements of some of the greatest bands in history from The Smiths to the The Shangri-las and fuses them with the band's own raw energy and excitement. The rhythm and reverb will force you to dance and the melodies will stay with you after the first listen.
After the release of their debut EP Summertime! and a string of tour dates in the UK, The Drums were listed at #1 on both Clash and NME's Top Tips of the Year, in addition to being #5 on the BBC's Sound of 2010 poll. Their live show has been called "explosive" and Jonny Pierce "one of the most magnetic frontmen in years." The list of supporters is endless but nothing is more convincing than this stellar collection of songs. The last track on the album is entitled "The Future." Fitting, since it will be full of sounds from The Drums.
You've heard the buzz and with the release of the band's debut album, the songs speak for themselves. The band is currently on a national co-headlining tour with Surfer Blood.  Get ready to listen to the album that is sure to be your end of summer soundtrack.
The Drums/Surfer Blood 2010 North American Tour Dates
9/15: Atlanta, GA @ The Loft
9/17: Orlando, FL @ Social
9/18: Miami, FL @ Grand Central
9/19: Tampa, FL @ State Theatre
9/20 Gainesville, FL @ Common Ground Coffeehouse
9/21: Tallahassee, FL @ Club Downunder
9/23: Houston, TX @ Fitzgerald's (The Drums ONLY)
9/24: Dallas, TX @  The Loft (The Drums ONLY)
9/25: Austin, TX @ ND (The Drums ONLY)
9/27: Phoenix, AZ @ Clubhouse
9/28 Pomona, CA @ Glass House
9/29: Los Angeles, CA @ The Music Box
10/01: San Francisco, CA @ The Independent (The Drums ONLY)
10/03: Portland, OR @ Wonder Ballroom
10/04: Seattle, WA @ Neumos (The Drums ONLY)
10/05: Vancouver, BC @ The Biltmore Cabaret
10/07: Boise, ID @ Neurolux
10/08: Salt Lake City, UT @ Urban Lounge
10/10: Denver, CO @ Bluebird Theater
10/13: Minneapolis, MN @ The Varsity Theater
10/14: Chicago, IL @ Lincoln Hall
10/16: Toronto, ON @ Mod Club (The Drums ONLY)
10/17: Montreal, QB @ Cabaret du Musee Juste Pour Rire (The Drums ONLY)
10/18: Boston, MA @ Paradise (The Drums ONLY)
10/20: New York, NY @ Webster Hall
10/22: Philadelphia, PA @ Making Time