DSO Spring Tour
Submitted by press on Thu, 01/14/2010 - 03:45
New West Coast Dates
As the winter ice begins to melt, we will start our Spring Tour in April. Joining us on guitar and vocals for this tour will be Stu Allen of (JGB). With his eagerness to improvise and his commitment to making every performance unique, Stu has made extensive contributions to the jam music scene. In the early 1990's, he co-founded the Minnesota-based acoustic-electric jam band, Blue Man Jive. In addition, he is a founding member of The Jones Gang , Minneapolis' premier Grateful Dead tribute band. He can't wait to get out on the road and play for you folks.The tour will kick off with a run through the Colorado Rockies including stops in Aspen, Avon and 2 nights in Boulder at The Boulder Theater of all places! From there, it's westward bound to Portland, Seattle and Reno before another 2 night stand, this time in San Francisco at The Regency Ballroom. After San Fran it's on to LA for a show at the El Rey Theatre before closing out the tour in Solona Beach. Rocky Mountain High to California Sun. Hope to see you out there!
Visit our TOUR DATES PAGE for tickets, more info and additional show announcements this coming week.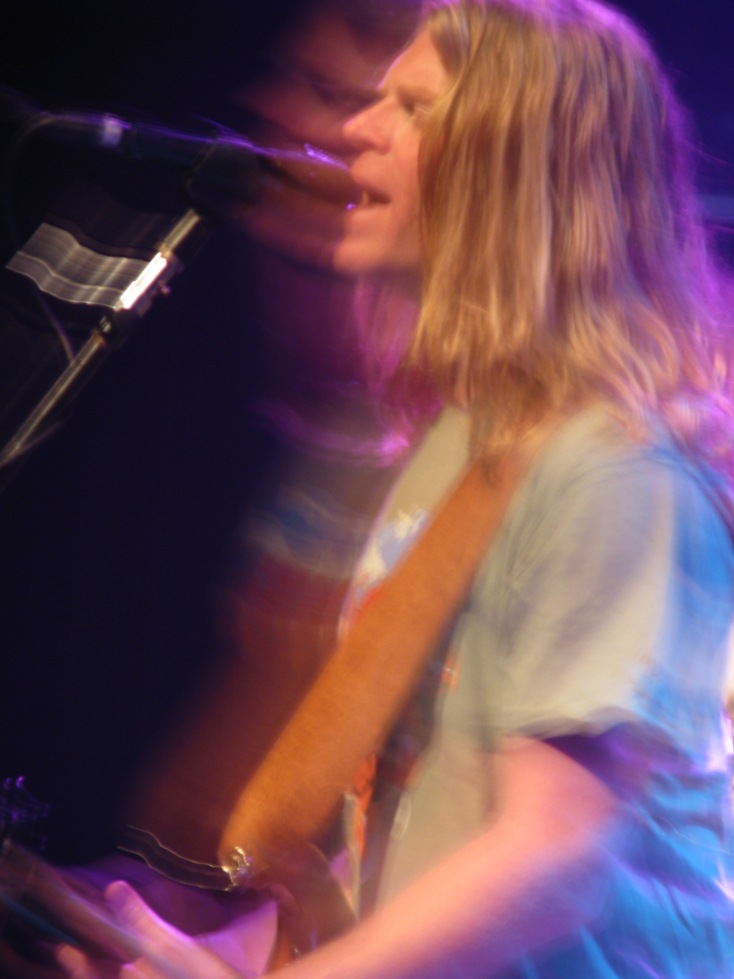 A Cosmic Time Was Had By All
It seemed that everyone had a blast this year as we celebrated the New Year in Baltimore at Rams Head Live with 6 plus hours of music. The Bridge kicked off the night with a smokin' set with Rob Koritz sitting in for most of the show. We then rolled into our 2nd ever Acoustic Set on the east coast: Deep Elem, Monkey, Cold Jordan, You Ain't Woman Enough, Midnight Moonlight, Mountains of the Moon into Ripple. We took a short break and rocked right into our 1st Electric Set: Help>Slip>Franklin's, Cassidy (w/Donna), Next Time You See Me, Cumberland, Midnight Hour - into the countdown and back to Midnight Hour>China>Rider. At midnight, there was the thunder of confetti cannons, a shower of balloons and a return of Father Time as he welcomed in the New Year by shadowing the musicians and dancing his timeless freaky dance with Donna Jean. As the confetti settled and the balloons kept bouncing, we went into our 3rd Set Scarlet (w/Donna)>William Tell>The Eleven>Fire(w/Both ladies)>Drumz>Sp...anish jam>Alligator>Blues for Allah>St Stephen>Viola Lee. Encores w/ both ladies...I'll Be With Thee>Tangled Up in Blue. We hope that you all had as much fun as we did and we wish you all the happiest and healthiest of New Years.
The Boat Was A Rockin'
As the ship set sail, DSO launched their first set of the week on the Pool Deck with an original setlist packed with gems. A massive segway of Playin in the Band-> Cryptical->The Other One->Cryptical->Drums->Space->Playin in the Band->Eyes of the World->Sugar Magnolia sent the ship dancing into the high seas. A couple nights later the band held court in the Teatro Carlo Felice Theater closing out night 4 of the cruise. From the opening jam that led to Shakedown Street, the night was on. The sets highlight was the run of Alligator->St Stephen->William Tell Bridge->The Eleven->Drums->Space-> Truckin->Death Don't Have No Mercy->Lovelight.
In addition to the two formal sets, various DSO members were found all over the boat in different musical groupings. Both Rob Koritz and Rob Barraco were found in The Jam Room well past 5:00 am on more than one occasion. Rob Koritz joined The Everyone Orchestra for their improvised set. Dino joined the Rock Star Karaoke Band which included members of Hot Buttered Rum. As pictures and recordings surface we are sure to uncover other stories and will share them as they come to light.
DATE
VENUE
CITY
DSO TICKETS
Winter Tour 2010
02/03

Varsity Theater

Minneapolis, MN

TICKETS

02/04

Pabst Theater

Milwaukee, WI

TICKETS

02/05+

Vic Theater

Chicago, IL

TICKETS

02/06+

Vic Theater

Chicago, IL

TICKETS

02/08

Englert Civic Theatre

Iowa City, IA

TICKETS

02/10

Barrymore Theatre

Madison, WI

02/11

The Pageant

St. Louis, MO

TICKETS

02/12

Egyptian Room at Murat Center

Indianapolis, IN

TICKETS

02/13

Newport Music Hall

Columbus, OH

TICKETS

02/14

House of Blues Cleveland

Cleveland, OH

TICKETS

02/16

Madison Theater

Covington, KY

TICKETS

02/18

Orange Peel

Asheville, NC

TICKETS

02/19+

Neighborhood Theatre

Charlotte, NC

02/20+

Neighborhood Theatre

Charlotte, NC

02/21

Lincoln Theatre

Raleigh, NC

TICKETS

02/24

Workplay Soundstage

Birmingham, AL

TICKETS

02/25

The Lyric Oxford

Oxford, MS

TICKETS

02/26+

Variety Playhouse

Atlanta, GA

TICKETS

02/27+

Variety Playhouse

Atlanta, GA

TICKETS

03/01

Soul Kitchen

Mobile, AL

TICKETS

03/03

House of Blues New Orleans

New Orleans, LA

TICKETS

03/04

House of Blues

Houston, TX

TICKETS

03/05

House of Blues

Dallas, TX

TICKETS

03/06

Stubb's Waller Creek

Austin, TX

TICKETS

Just Announced - Spring Tour
04/07

Belly Up

Aspen, CO

TICKETS

04/08

Vilar Center

Avon, CO

04/09

Boulder Theater

Denver, CO

TICKETS

04/10

Boulder Theater

Denver, CO

TICKETS

04/16

Crystal Ballroom

Portland, OR

TICKETS

04/17

The Showbox at the Market

Seattle, WA

TICKETS

04/19

Ashland Armory

Ashland, OR

04/20

Eureka Theater

Eureka, CA

04/22

Knitting Factory

Reno, NV

TICKETS

04/23

Regency Ballroom

San Francisco, CA

TICKETS

04/24

Regency Ballroom

San Francisco, CA

TICKETS

04/28

El Rey Theater

Los Angeles, CA

TICKETS

04/30

Belly Up

Solona Beach, CA

TICKETS

05/01

Belly Up

Solona Beach, CA

TICKETS


+ w/ Donna Jean Godchaux Band w. Jeff Mattson
Thanks to Jam Cruise for throwing a great party!