Eddie Vedder Announces June/July Solo Tour
Submitted by mike on Tue, 03/29/2011 - 02:34
In support of his forthcoming solo album, Ukulele Songs, Eddie Vedder will embark on a month-long U.S. solo tour in June and July. Vedder's tour kicks off on June 15th at Providence's Performing Arts Center and wraps up on July 15th at Seattle's Benaroya Hall (full tour dates follow).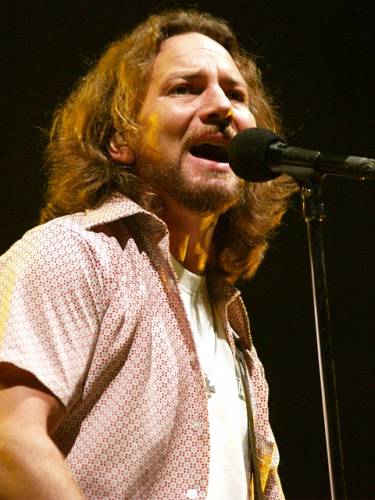 Special guest Glen Hansard (The Swell Season, The Frames) will join Vedder on the road. Tickets for all shows go on sale Friday, April 1st. A pre-sale for active members of Pearl Jam's Ten Club takes place Tuesday, March 29th and Wednesday, March 30th. (For full details on this pre-sale, visit www.pearljam.com).
Vedder's solo album, Ukulele Songs, will be released on Tuesday, May 31st through Pearl Jam's Monkeywrench Records. Ukulele Songs is a collection of original songs and covers performed by Vedder on ukulele. The first single from the album, "Longing to Belong," is available now digitally.
Also released on May 31st is Water on the Road, a live-concert DVD directed by Brendan Canty of Fugazi and Christoph Green featuring performances from Vedder's August 16th and 17th 2008 solo tour engagements at Washington, D.C.'s Warner Theatre. The DVD features a live performance of "You're True" from Ukulele Songs as well as a mix of Pearl Jam catalog, covers and songs from Vedder's critically acclaimed, award-winning solo record, Into The Wild.
--
Eddie Vedder June/July U.S. Tour Dates:
Date            City                            Venue
June 15 Providence, RI          Providence Performing Arts Center (PAC)
June 16 Boston, MA              The Wang Theatre
June 18 Hartford, CT            The Bushnell Center for the Performing Arts
June 21 New York, NY            Beacon Theatre
June 22 New York, NY            Beacon Theatre
June 25 Philadelphia, PA        Tower Theatre
June 26 Detroit, MI             Fox Theatre
June 28 Chicago, IL             The Chicago Theatre
July 1  St. Louis, MO           Fox Theatre
July 2  Minneapolis, MN      Orpheum Theatre
July 5  San Diego, CA           Copley Symphony Hall
July 6  Long Beach, CA     Terrace Theater
July 8  Los Angeles, CA    The Wiltern
July 9  Santa Barbara, CA       Santa Barbara Bowl
July 11 Oakland, CA             The Paramount Theatre
July 14 Portland, OR            Arlene Schnitzer Concert Hall
July 15 Seattle, WA             Benaroya Hall