Electronic Soul Trio Sophistafunk Announces Third Studio Release Freedom Is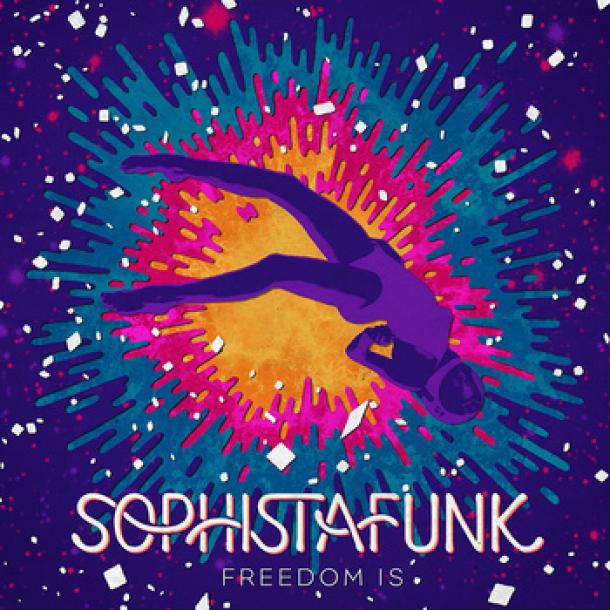 Freedom Is, written and recorded by Sophistafunk and produced by Jocko Randall at MoreSound Studios in Syracuse, NY, is driven by contrasting tones and texture, recreating the experience of being at one of the band's electrifying live shows. Instantly pulsing from powerful to smooth, the sound is raw, authentic and groovy. The music reflects the bands deep commitment to vintage keys, analog synth and scorching solos which are anchored by deep-pocket hip hop drums and fat funky bass lines. Tasty lyrical flows and choruses slice through each song, and are accentuated by the band's mastery of bubbling polyrhythms. The vocals are a perfect mix of linguistic creativity & unbridled expression, channeling a wide range of emotions with a soothing feel-good flavor. In keeping with their unmistakable sound, Sophistafunk's Freedom Is blends hip-hop, funk and rock to create unique, thoughtful, post-modern music.
Fans worldwide have grown to love and appreciate the unique sound and high-energy live performances that Sophistafunk brings to the stage. They have captured the energy of their live shows on Freedom Is by keeping it simple. The album features MC Jack Brown on vocals, Adam Gold on the keys, bass, and vocals and Emanuel Washington on drums. Because of their love of improvisation and old school laid back grooves, Sophistafunk can collaborate on stage, in studio, on the road…anywhere they are. The band let the writing and recording process flow naturally, improvising and collaborating on each song on the new album.
Lyrically, Freedom Is is rich, deep and thought provoking. Emcee Jack Brown is not only an incessant music lover but a trained journalist with a background in creative writing, spoken word poetry, philosophy and history. Having experienced the loss of friends and family members, extensive traveling and meeting and befriending many different personality types, Brown has synthesized his experience into his writing. Along the way, he began to notice the connections between people, the living world around him, science and spirituality, consciousness and dreaming, and all styles of music. He combines a myriad of life experience with ancient mysticism, political satire, pop-culture references, Zen Buddhism, and decades of musical influence from Gil Scott-Heron to Rage Against The Machine.
Sophistafunk has toured extensively, kicking off summer 2013 by playing at the International Home and Housewares Convention in Chicago, specially invited by celebrity chef Guy Fieri. The trio kept the fire roaring throughout the summer and fall, performing at Vermont Reggae Fest, Syracuse Jazz Fest, Finger Lakes GrassRoots Festival and Jersey Shore Festival. The Syracuse-based group closed out the summer with their first ever international tour through the UK, including appearances in Bristol and Newcastle, England, Wales and the world renowned Shambala Festival growing their fanbase both nationally and internationally.
Freedom Is will be available worldwide on iTunes and Bandcamp on October 22nd. Hard copies and vinyl presses of the album as well as other merchandise can be ordered through their website  www.SOPHISTAFUNKband.com or purchased at any of their live shows. 
Upcoming Shows:
10/25/2013- Halloween Hash Bash - Harmony, ME
10/26/2013- Nectar's - Burlington, VT
10/31/2013- The Gates - Ithaca, NY
11/01/2013- 505 Westcott St. - Syracuse, NY w/ Consider The Source
11/02/2013- DROM - New York, NY w/ Consider The Source
11/15/2013- Thunder Road - Oswego, NY
11/22/2013- Whitlow's on Wilson - Arlington, VA
12/14/2013- Tupelo Music Hall - White River Junction, VT
12/19/2013- Whitlow's on Wilson - Arlington, VA
12/31/2013- Landmark Theatre - Syracuse, NY