Elephant Revival Announces 2013/2014 Holiday Shows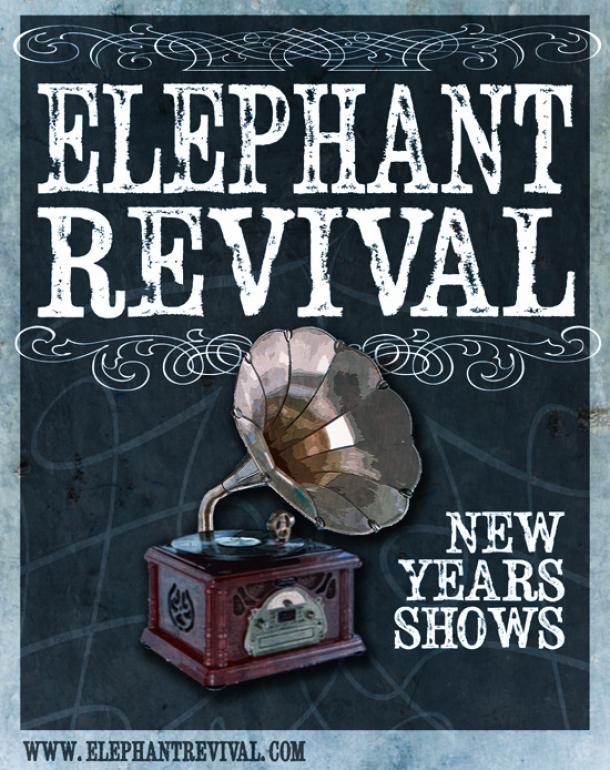 Elephant Revival will ring in 2014 riding a sleighful of accolades for their new album, THESE CHANGING SKIES, which they'll celebrate with five special holiday-season appearances. The album, released Sept. 3, debuted at No. 8 on Billboard's Heatseekers chart and reached No. 14 on the Americana Music Association's airplay chart, and earned them comparisons to genre favorites Alison Krauss and the Punch Brothers.
The Colorado-based quintet will perform a Dec. 28 show at Stargazers Theatre in Colorado Springs, followed by Dec. 30 and 31 shows at the State Room in Salt Lake City and Jan. 3 and 4  appearances at the Sheridan Opera House in Telluride. The latter four dates feature opening act the Shook Twins. For tickets and information, visit elephantrevival.com/tour.
Since joining their musical fortunes together in 2006, Elephant Revival have worked hard to create a community of fans for their eclectic, acoustic-based sound. They've worked just as hard to grow musically, and with THESE CHANGING SKIES, they've reached a new milestone. 
Critics are calling the release the band's best, most cohesive yet, and Hype Weekly labeled Elephant Revival "one of the coolest, philosophically sound and musically diverse bands to emerge from the rapidly multiplying festival scene." 
Elephant Revival are: Bonnie Paine (vocals, washboard, djembe and musical saw); Sage Cook (electric banjo/guitar, acoustic guitar, mandolin, viola and vocals); Dango Rose (double-bass, mandolin, banjo and vocals); Daniel Rodriguez (acoustic guitar, electric banjo/guitar and vocals); and Bridget Law (fiddle and vocals). 
Holiday shows
Dec. 28 – Stargazers Theatre & Event Center, 10 S. Parkside Drive, Colorado Springs, Colo. Tickets & info: 719.476.2200, stargazerstheatre.com
Dec. 30 & 31 – The State Room, 638 S. State St., Salt Lake City. Tickets & info: 801.596.3560, thestateroom.com (w/ the Shook Twins)
Jan. 3  & 4– Sheridan Opera House, 110 N. Oak St., Telluride, Colo. Tickets & info: 970.728.6363, sheridanoperahouse.com (w/ the Shook Twins)