Elephant Revival Announces Fall Tour with 4 Colorado Shows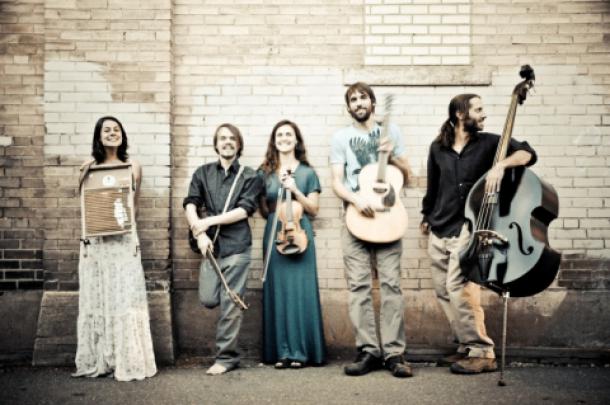 Following a summer full of festival appearances, Ruff Shod/Nettwork recording artists Elephant Revival start their fall tour with a Sept. 20 show at Vail, Colo.'s Gerald Ford Amphitheater, and cap the month long run with four nights of intimate performances at Colorado venues. Tickets for these dates — Oct. 18 at the Walnut Room, Oct. 19 at the Soiled Dove underground, Oct 20 at Daniel's Hall at Swallow Hill and Oct. 21 at the Stage Stop in Rollinsville, near Nederland — will be available Tuesday, Aug. 21, at the indie acoustic quintet's Backdoor Theater premiere party for their new video, "Go On," from their 2011 album, BREAK IN THE CLOUDS (see info below). Tickets will go on sale via the band's website on Thursday, Aug. 23, and at the four venues on Friday, Aug. 24.
The tour also includes a few festival dates, highlighted by the Yonder Mountain String Band Harvest Music Festival Oct. 11-13 in Ozark. Ark. Tour dates are listed below. For more information and tickets, visit the band's website. For info about the Aug. 21 video premiere and Nederland community potluck dinner, visit their Facebook.
Elephant Revival upcoming dates
Aug. 30 – Center for the Arts, Crested Butte, Colo.
Aug. 31-Sept. 1 – Four Corners Festival, Pagosa Springs, Colo.
Sept. 6-7 – Harmony Park Music Garden, Clarks Grove, Minn.
Sept. 8 – Lake Superior Big Top Chautauqua, Bayfield, Wis.
Sept. 9 – Shoe Fest, Manteno, Ill.
Sept. 11 – Space, Evanston, Ill.
Sept. 12 – The Canopy Club, Urbana, Ill.
Sept. 13 – Stan Hywet Hall & Gardens, Akron, Ohio
Sept. 15-16, Bristol Rhythm & Roots Reunion, Bristol, Tenn.
Sept. 20 – ­­­ Gerald R. Ford Amphitheater, Vail, Colo.
Sept. 27 ­– Abode Venue, Wichita, Kan.
Sept. 28 – Tahlequah Art of Living Music & Arts Festival, Norris Park, Tahlequah, Okla.
Sept. 30 – Sunday Concert Series, Guthrie Green, Tulsa, Okla.
Oct. 3 – Asheville Music Hall, Asheville, N.C.
Oct. 4-5 – Shakori Hills Grassroots Festival of Music & Dance, Pittsboro, N.C.
Oct. 6 – Albino Skunk Music Festival, Greer, S.C.
Oct. 7 – The Festy Experience, Roseland, Va.
Oct. 10 – Port Cape, Cape Girardeau, Mo.
Oct. 11-13 – Yonder Mountain String Band Harvest Music Festival, Ozark, Ark.
Oct. 18 – The Walnut Room (Walnut Street location), Denver
Oct. 19 – The Soiled Dove Underground, Denver
Oct. 20 – Daniel's Hall at Swallow Hill, Denver
Oct. 21 – The Stage Stop, Rollinsville
Elephant Revival are: Bonnie Paine (vocals, washboard, djembe and musical saw); Sage Cook (electric banjo/guitar, acoustic guitar, mandolin, viola and vocals); Dango Rose (double-bass, mandolin, banjo and vocals); Daniel Rodriguez (acoustic guitar, electric banjo/guitar and vocals;) and Bridget Law (fiddle and vocals). Fans can follow the band on twitter @elephantrevival; on Facebook at facebook.com/elephantrevival or via their website at elephantrevival.com.