Eliot Lipp's How We Do: Moves Made Drops Today, New Fall Dates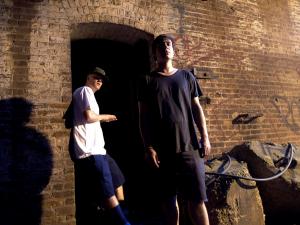 Brooklyn-based producer/musician Eliot Lipp today releases How We Do: Moves Made (October 4, 2011 / Old Tacoma Records). In support of the new release, Lipp announces more than 10 additional tour dates including stops in San Francisco, Los Angeles and the Midwest. The complete list of tour dates is included below.
A versatile talent respected in the competitive world of electronic music by being equally at ease with pushing forth the latest production techniques as well as with the time-honored. How We Do finds Lipp "On the cutting edge of beatwork." (urb.com) The album pushes out fresh electronic music that reaches back to the golden age of American Soul, and "Eliot Lipp absolutely nails this marriage of sounds." (StreetDate.Radio)
How We Do: Moves Made is borne out of a longtime friendship between Eliot Lipp and Jasia 10, and hearkens back to when they were kids, digging for grooves at House of Records in Tacoma, a meeting point that happened to be halfway between each of their childhood homes. They waded through countless stacks of obscure records in search of that one best moment to swipe and loop into a hip-hop beat, learning a lot about jazz, funk, G-funk, and other pillage-worthy sounds along the way.
Lipp's seven-year strong discography includes releases for the Eastern Developments, Hefty, Metatronix, and Mush labels as well as his own label Old Tacoma Records, named after his hometown. Unlike the typical Old Tacoma release, which atypically pushes forth future frontiers with artists Dark Party, Leo 123, Mike Bubbles, and Sir Charles, as well as the label's next release from Samples, How We Do: Moves Made exists in its own reminiscent funked-out space.
In that respect, various colorful threads of ideas for the album have been sewn for years, but when it came to How We Do: Moves Made, they wanted to make a record that sounded like those records they sampled, rather than the rap records that sampled those original cuts. And at one point, its creation was also based on a funny game.
"For each song, we were making these little jingles — kind of like the jingle or intro music at the beginning of a newscast," Lipp explains. "We were making all of these little commercial-sounding tunes; all of them were like 20 seconds long, just little keyboard sketches. And that's the way each one of these songs began. We got to a point where we didn't need to include it in the album, but it turned into a thing where we'd begin each song with a little cheesy line, like a little synth melody, and then the challenge was to see if we could turn it into a full-length track that we were stoked on listening to it."
Lipp has lived in New York for six years now, where he's a part of a vibrant music community, and has lived in a lot of different cities, but he's found that his travels have had an even greater impact on his art than his home base.
"I've been touring more often and further out over the last eight years and I feel like that's influenced me in a big way. And getting involved in different scenes that I never set out to be a part of, that's definitely opened me up to letting go of some of my [biases]. As a producer, I had such a long list of stuff that I wouldn't do; I was really into one specific sound and wanted to really zoom in, and that can be really good for finding your sound. But breaking away from that was the best thing that ever happened to me."
Look for Eliot Lipp's first solo album in three years to be released in the early part of 2012.
The complete list of current Eliot Lipp tour dates is as follows:
Thursday, October 6 - Tucson, AZ - Zen Rock
Friday, October 7 - Tempe, AZ - School of Rock
Tuesday, October 18 - Bloomington, IN - The Bluebird
Wednesday, October 19 - St Louis, MO - 2720
Thursday, October 20 - Springfield, IL - The Hangar
Friday, October 21 - Carbondale, IL - Bar None
Wednesday, October 26 - Los Angeles, CA - Low End Theory
Thursday, October 27 - Santa Barbara, CA - Savoy
Friday, October 28 - San Francisco, CA - Freakers Ball
Wednesday, December 7 - Boulder, CO - The Fox
Thursday, December 8 - Ft Collins, CO - Hodi's Half Note
Friday, December 9 - Breckenridge, CO - 320 South