Emmitt-Nershi Band Announces New Bassist
Submitted by press on Tue, 01/11/2011 - 01:57
With Tyler Grant recently announcing his departure from the Emmitt-Nershi Band fans have been anxiously awaiting the announcement of the new bass player for the band.  Today the Emmitt-Nershi Band website and facebook will be making the announcement that Johnny Grubb of Railroad Earth will be filling the spot.  Throughout Johnny's 7 years with Railroad Earth he had played with Billy Nershi on many occasions opening up the doors for this opportunity.  The bands lineup change is effective as of now and all upcoming dates will be played with Drew Emmitt (mandolin/vocals), Billy Nershi (guitar/vocals), Andy Torn (banjo) and Johnny Grubb (bass).  Below is the official announcement that will be posted on the webpage and facebook from Johnny.
--
Hello, World!  Rather than make someone else come up with an announcement for who the new bassist will be, I thought I'd try to follow in Tyler's gracious footsteps and do it myself.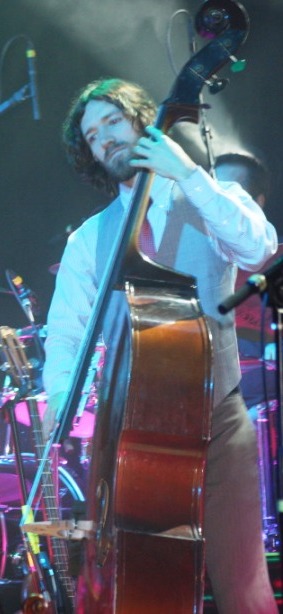 My name is Johnny Grubb.  I went to school at Appalachian State University and saw Leftover Salmon many, many times my first couple of years there.  After ASU, I spent a good year rolling burritos, washing dishes and playing bluegrass in my hometown of Atlanta before serendipitously running into John Skehan of Railroad Earth one night at a gig of ours.  They just happened to be on the lookout for a new bassist and long story short, I spent 7 years in that band, playing several metric tons of great music and meeting lots of great folks all over the country.
One of the folks I met and had the good fortune of playing with on many occasions was Mr. Billy Nershi.  RRE was signed to SCI Fidelity Records for a number of years and we got to be friends with a bunch of the SCI/Mad House folks in time.  RRE always was and still is a full-time commitment. I just couldn't keep it up with the birth of my second boy last January, so I bowed out a year ago and spent this past year getting a web development consultancy off the ground, getting to know the virtues and vices of the various open source software scenes out there and being home with my wife and boys for the first time ever.  The itch to play some bass didn't come back until just a few months ago after getting into the most recent Larry Keel and Stringduster's CDs.
In any event, I cruised by this website last month to see what they were working with from a technical standpoint.  The meaning of Tyler's announcement that he was leaving didn't really hit me until the next day, at least not the part where I should give Billy a call and see who they have lined up.  I wasn't looking for another full-time gig, nor to be in another rock band per se, so after speaking with Billy and Drew it seemed like the parameters were pretty well lined up for everybody and here I am!
Just to put a bow on top of everything, I met Andy years ago when he was with Larry Keel and didn't find out until the last few weeks that he was a member of the Broke Mountain Bluegrass band with Travis from the Infamous Stringdusters and my good friend Anders from Greensky Bluegrass.  It's nice to be a part of this small world and I want to thank my new bandmates for having me aboard.  I will see you all soon.