Eric Lambert & Friends Endorsed by K&K Sound Systems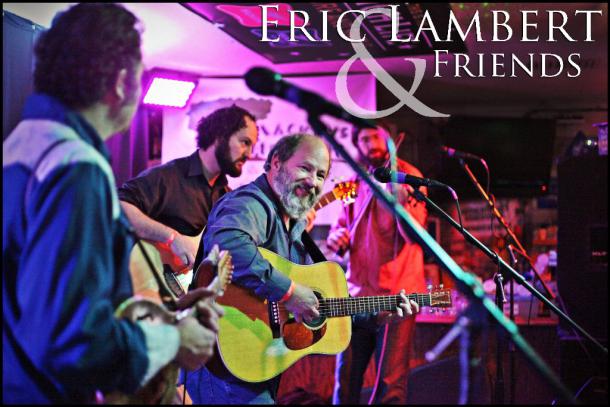 Great sound is serious business in the music business. Eric Lambert & Friends, featuring Eric Lambert on guitar, Dan Rogers on bass, and Pat Fiddle on mandolin and fiddle, are thrilled to take that commitment a step further and recently signed their first endorsement deal with K&K Sounds Systems. From Coos Bay, Oregon, K&K have established themselves as a premier manufacturer of the highest quality acoustic amplification products in the world. Their handmade products include top-quality pickups, microphones, and preamps for a variety of acoustic instruments.
All the acoustic instruments in the band are equipped with K&K pickups. "I use the Pure Mini in two of my guitars, as well as the Twin Internal in my mandolin," said Eric Lambert. "The Pure Mini by K&K enables me to plug in and have a consistent, natural tone with appropriate volume night after night, venue to venue," he said. "The fact that I can count on the same response and performance every night is important to me. The Pure Mini also allows a flatpicker like myself to play with a natural approach and sound dynamic. I don't have to compromise my technique to compensate for the pickup."
"I use a K&K Pure Bass acoustic pickup in all of my acoustic basses," said Dan Rogers. "After I started using them about a year ago, I have found that the tone of their passive pickups is far superior to the stock active pickups that come in almost every acoustic bass I have picked up."
The band members agree, K&K is the only way to go. "K&K's systems are easy to install and they just sound darn good," Dan shared. "In my experience, most pickup systems just don't deliver the natural, woody tone of my instrument. K&K does this and does it flawlessly," he continued.
Eric Lambert won't go any other way. "After experimenting with and purchasing other products, I was turned on to the K&K Mini and my search was over. I think it's the best sounding, dependable product on the market in terms of amplifying acoustic instruments. It supplies the volume and tone required to play large venues and is extremely consistent," he said.
Everyone is excited about the deal and what it means. "I feel honored by the endorsement deal with K&K," Eric said. "I use their products, believe in their products, and have been complimented for my live sound in 15 countries. I never hesitate to recommend the Pure Mini or Twin Internal to pickers who want better tone."
"K&K has done a lot for me," he continued. "K&K means good tone, and to be endorsed by the company immediately suggests that our ensemble is one of quality, and that we're serious about how we sound," Eric concluded.
"I am very excited to be a K&K endorsed artist," said Dan. "I have been preaching the K&K gospel since I began using their products and I look forward to continue doing so," he said. "It feels great producing music that is close to my heart, and to be recognized by a company that helps make my performances possible. And the endorsed artist discount certainly doesn't hurt either," he chuckled.
Founded in Germany in 1984 by Dieter and Karla Kaudel, K&K Sound Systems has positioned themselves as an acoustic pickup authority with all products being designed and manufactured in-house and by hand, enabling them to quickly react to customer and market needs. Specific requests for customized products are easily met for musicians, dealers, and manufacturers. In an effort to capture more of the pickup market, K&K relocated their headquarters and manufacturing plant to Coos Bay, Oregon, USA in 1995. "Germany is not exactly the acoustic guitar capital of the world," Dieter shared.
Read the full, fascinating K&K story here: www.kksound.com.
Learn more about Eric Lambert & Friends here: www.ericlambert.com.