Europe '72 | The Wait is Almost Over!
Submitted by mike on Tue, 07/26/2011 - 05:02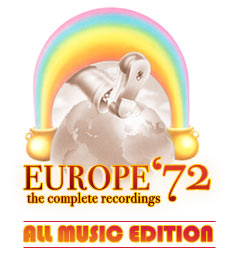 The production stage is coming to end for everyone working on the release...which means Europe '72: The Complete Recordings is about to truly begin for all of you! Dead.net is proud to announce the final disc tally is a whopping 73! Pressing is underway and they're on target to meet their expected ship date. As a special project-ending taste of the box set, they've got this tremendous version of "The Other One" from 4/11/72 in Newcastle, selected by David Lemieux. He considers this to be one of the finest, most dynamic, most powerful jams of the entire tour, high praise for a tour that included mind-blowing and mind-bending jams virtually every night of the tour.
Dead.net is now offering the All-The-Music edition of Europe '72, which includes all of the music recorded on the tour, with each show in its own individual package, complete with its own liner notes by Dead scholars such as David Gans, Blair Jackson, Steve Silberman, Gary Lambert and others, as well as by attendees of some of the shows. You'll get 72 CDs (our last count said over 60 but much to our surprise, the final count is 72) and 70 hours of prime Grateful Dead. You can purchase it now by clicking here.