The Felice Brothers Announce Spring Tour
Submitted by mike on Thu, 02/10/2011 - 00:03
The Felice Brothers have announced a new run of tour dates in the US, Australia, and New Zealand this spring, beginning in late March following a March 19th performance with Bright Eyes at Auditorium Shores during this year's SXSW festival in Austin, TX.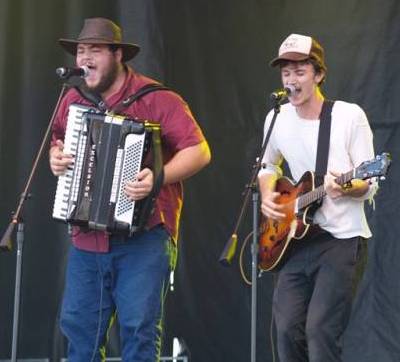 The first leg of the tour will kick off on March 25th at the Oneonta Theater in Oneonta, NY, and lead The Felice Brothers to Indio, CA, where they will make their debut appearance at the already sold-out Coachella festival on April 16th. The band will then travel to Australia and New Zealand for the first time, touring down under from April 20th through 24th to play shows that include Boogie Fest in Melbourne, AUS, and the Grassroots Festival in Auckland, NZL. The Felice Brothers will resume their US tour on April 28th at the Great American Music Hall in San Francisco, CA, and continue through May 6th at Lincoln Hall in Chicago, IL, with more dates to be confirmed shortly. Tickets for the US shows will begin to go on sale tomorrow, February 10th; for more information, please visit www.thefelicebrothers.com.
The Felice Brothers' most recent album, Yonder Is The Clock, was released in April 2009 and met with praise from Entertainment Weekly, Esquire, Filter, The New York Times, SPIN, and Time Out New York, among others.
--
The Felice Brothers on tour:
MARCH 19 AUSTIN, TX AUDITORIUM SHORES (SXSW)
MARCH 25 ONEONTA, NY ONEONTA THEATER*
MARCH 26 HUDSON, NY HELSINKI ON THE HUDSON*
MARCH 27 HOBOKEN, NJ MAXWELL'S*
MARCH 30 PHILADELPHIA, PA FIRST UNITARIAN CHURCH*
MARCH 31 WASHINGTON, DC ROCK AND ROLL HOTEL*
APRIL 1 HUNTINGTON, WV V CLUB*
APRIL 2 LEXINGTON, KY BUSTER'S BILLIARDS & BACKROOM*
APRIL 3 KNOXVILLE, TN RHYTHM 'N BLOOMS
APRIL 5 CHARLOTTE, NC VISUALITE THEATER*
APRIL 6 ATHENS, GA 40 WATT CLUB*
APRIL 7 NASHVILLE, TN EXIT/IN*
APRIL 8 BIRMINGHAM, AL THE BOTTLETREE*
APRIL 9 MEMPHIS, TN HI-TONE CAFÉ*
APRIL 10 DALLAS, TX THE LOFT*
APRIL 12 LUBBOCK, TX BLUE LIGHT*
APRIL 13 SANTA FE, NM CORAZON*
APRIL 16 INDIO, CA COACHELLA
APRIL 20 SYDNEY, AUS ANNANDALE HOTEL
APRIL 21 MELBOURNE, AUS THE PRINCE
APRIL 22 MELBOURNE, AUS BOOGIE FEST
APRIL 23 MEENYAN, AUS TOWN HALL
APRIL 24 AUCKLAND, NZL GRASSROOTS FESTIVAL
APRIL 28 SAN FRANCISCO, CA GREAT AMERICAN MUSIC HALL
APRIL 29 PORTLAND, OR MISSISSIPPI STUDIOS
APRIL 30 SEATTLE, WA TRACTOR TAVERN
MAY 2 SALT LAKE CITY, UT URBAN LOUNGE
MAY 3 DENVER, CO HIGH DIVE
MAY 4 OMAHA, NE THE WAITING ROOM
MAY 6 CHICAGO, IL LINCOLN HALL
* Diamond Doves supporting