FESTIVAL OF NEW TRUMPET MUSIC (FONT) in NYC
Submitted by press on Sat, 09/06/2008 - 00:40
Director/curator Dave Douglas, along with curators Taylor Ho Bynum and Jeremy Pelt, proudly announce the 2008 Festival of New Trumpet Music - aka FONT Music, taking place September 13-28, 2008!  The three day series NEW TRUMPET UNDERGROUND at Cornelia Street Cafe is curated by Taylor Ho Bynum.
Thursday, Sep 18
8:30PM Hooper-Piccarillo Group
Hooper Piccalero, Lauren Strobel & Danilo Henriquez, trumpet; Matt Plummer, trombone/bass trombone; Derek Beckvold, baritone sax
9:30PM Rich Johnson's Up the Turret Mil
Rich Johnson, trumpet/laptop; Aaron Jennings, guitar; Eivind Opsvik, bass
11PM Lewis Barnes' Hampton Roads
Lewis Barnes, trumpet; Rob Brown, alto sax; Darius Jones, alto sax; Todd Nicholson, bass; Warren Smith, drums
Most directly influenced by Miles Davis, Kenny Dorham, Booker Little, and Thad Jones, Lewis Barnes is Virginia born, City of New York reared and a Howard University graduate. He creates music with bassist William Parker's critically acclaimed quartet (which includes Rob Brown on saxophone and Hamid Drake on drums), The Little Huey Orchestra, and The Inside The Songs of Curtis Mayfield project (with Amiri Baraka, Leena Conquest, Darryl Foster, Sabir Mateen, and Dave Burrell). He also contributes his trumpet to Greg Tate's collective Burnt Sugar, which includes a host of tremendous and outstanding musicians. Lewis has also worked and/or recorded with saxophonist Jemeel Moondoc, guitarist Jean-Paul Bourelly, The Holmes Brothers, Norah Jones, drummer William Hooker, the JC Hopkins Biggish Band, Chris Becker, Noizland, and numerous other musical projects. He's written and recorded original music for two films by Actress/Cinematographer Sandye Wilson, "So Many Things to Consider" and "Notsoprivatethoughts."
Rich Johnson's Up the Turret Mil
Celebrating the release of his first solo recording for Loyal Label, Johnson will be playing music from his new CD with help from the electronic-acoustic duo "Opsvik & Jennings." "Up the Turret Mil" is a mix of trumpets, guitars, and pianos with laptop glitch, sampling, and musique concrète. Many of the songs began as experiments with laptop and electronic-acoustic treatments on the trumpet, and bridge Johnson's many influences – from free jazz to folk music. Based in NYC since 1998, Johnson plays in a wide variety of groups from British style brass bands, laptop duos, big bands, Brazilian music, brass quintet, and free jazz freak-outs. Originally from northern Minnesota, Johnson began studying classical trumpet in grade school and came to New York to study jazz. Johnson has contributed as a sideman to a number of projects including Jason Rigby's critically acclaimed 2006 recording, "Translucent Space," Ryan Green & Scott Anderson's "Tive Razão," and Opsvik & Jennings' "Commuter Anthems" on the Rune Grammofon label.
Unafraid of either complexity, repetition, silence or lyricism, Hooper Piccalero creates refreshing musical landscapes. The Boston-based quartet "specializes in textural scrabbles reminiscent of early Art Ensemble sides, as well as quirky spoken-word oriented pieces like 'What the Fuck,' in which the title is ritualistically repeated like some kind of Balinese monkey chant" (Time Out NY).
Drawing from influences including the aforementioned Art Ensemble of Chicago and Sun Ra, Hooper Piccalero uses spoken word and theater in many of their compositions. In their piece "No Vignettes", they phone NPR host Steve Inskeep. In other compositions, they involve the audience with in-concert surveys or directly with musical contributions.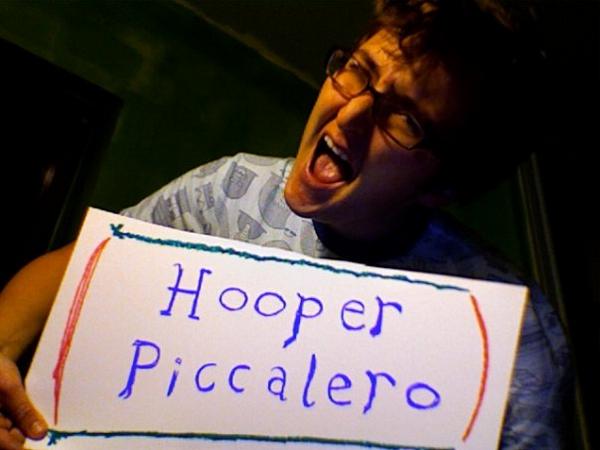 Hooper Piccalero is comprised of four classically-trained musicians; their vocabulary of extended techniques affords the opportunity for pyrotechnic displays but also beautiful melodic statements. Their repertoire is mostly original, consisting of a variety of composed material, graphic scores and game pieces—but it also includes pieces by John Zohn, Karlheinz Stockhausen, Christian Wolff and Norman Bolter.
Hooper Piccalero members have performed or recorded with Art Lande, Anthony Coleman, Slavic Soul Party, the DaHa Orchestra (lead by Andrew D'Angelo and Curtis Hasselbring), Summit Brass, Cleo Parker Robinson dance, the Rubblebucket Orchestra and timba band La Bolá.
Performing throughout North America, Hooper Piccalero has played at the Stone and the Jalopy Theater in New York; NOW Series in Toronto; Jordan Hall, the Lily Pad, and the Boston Public Library in Boston; Radio Bean in Burlington; the Hotcakes Gallery in Milwaukee; and the Ennui Cafe in Chicago.
Friday, Sep 19
8:30PM Chris DiMeglio's Imaginary Sextet - *FONT commission*
Chris DiMeglio, trumpet; Jason Kao Hwang, violin; Dave Miller, drums; Ras Moshé,tenor saxophone/flute; Todd Nicholson, bass; Catherine Sikora, tenor & soprano saxophones
9:30PM Scott Tinkler's Antipodean Collective
Scott Tinkler, trumpet; Carl Dewhurst, guitar; Ken Edie, drums
11PM John McNeil/Bill McHenry Quartet
John McNeil, trumpet; Bill McHenry, tenor sax; Joe Martin, bass; Jochen Rueckert, drums
Chris DiMeglio's Imaginary Sextet
Chris DiMeglio is a trumpeter, composer, and vocalist living in Astoria, Queens. He has performed with Daniel Carter, Steve Dalachinsky, François Grillot, Jason Kao Hwang, Daniel Levin, Nate McBride, Frank Rosaly, Blaise Siwula, Steve Swell, and at the Festival of New Trumpet Music, the Protest Heaven Jazz and Improvised Music Series, the RUCMA Series, the Aperto New Music Series, and on WKCR's Live Constructions show. His first recording as a leader, "The Open Field," was recorded in July 2007 and will be released in September 2008. Chris' new Imaginary Sextet consists of musicians who were invited to share their unique and beautiful musical personalities. The music—commissioned by FONT Music—is largely through-composed and blurs some of the lines between composition and improvisation. Chris will probably sing at some point too.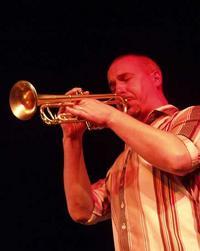 Scott Tinkler's Antripodean Collective
Improvising powerhouse and all round fire-starter Scott Tinkler heads to NY to perform exclusively at FONT this September. Joining him are fellow Australians Carl Dewhurst on guitar and Ken Edie on drums, forming what has to be one of the Australia's most incendiary trios. Scott has performed and recorded with the likes of Branford Marsalis, Joe Lovano, Tony Malaby, Jeff Watts, Mark Helias and Billy Harper but is best known for his many CD releases as a leader.
"Tinkler has the best tone, technique, articulation and inventiveness of any Australian trumpeter I've ever heard.....For sheer bursting excitement there can be few anywhere to match him" - John Clare SMH
"Above all there was the trumpet of Tinkler. He ripped at the harmonic fabric of Angel with tiny, impossibly poignant cries and on Circle of Trust alternated blasts of white light with great smears of sonic emotion. This was Australian jazz at its best." - John Shand SMH
John McNeil/Bill McHenry Quartet
John McNeil is regarded as one of the most original and creative jazz artists in the world today. For over three decades John has toured with his own groups and has received widespread acclaim as both a player and composer. His highly personal trumpet style communicates across the full range of contemporary jazz, and his compositions combine harmonic freedom with melodic accessibility. John's restless experimentation has kept him on the cutting edge of new music and has kept him from being easily categorized.
Although his background includes such mainstream jazz groups as the Horace Silver Quintet, Gerry Mulligan, and the Thad Jones/Mel Lewis Orchestra, John is equally at home in free and structured settings. This stylistic versatility has put him on stage with such disparate artists as Slide Hampton and John Abercrombie, and shows itself in the combination of free and structured elements found in his CDs recorded on the OmniTone label from 2003 to '06.
Rediscovery, John's latest release (co-led with fellow individualist and tenor icon Bill McHenry), takes the free/structured approach to a different level as they redefine the harmonic boundaries of a number of forgotten or neglected jazz classics.
Saturday, Sep 20
8:30PM Nabaté Isles + 5  *FONT commission*
Nabaté Isles, trumpet/flugelhorn; Jaleel Shaw, alto saxophone/flute; Stacy Dillard, tenor & soprano saxophones; Manuel Valera, keyboards; Matt Clohesy, bass; Johnathan Blake, drums
9:30PM Phil Slater Quartet
Phil Slater, trumpet; Jim Black, drums; Chris Tordini, bass; Carl Dewhurst, guitar
11PM John Carlson's Buzz
John Carlson, trumpet; Frank Carlberg, piano; Eric Hipp, tenor sax; Shawn McGloin, bass; TBA, drums
Nabaté Isles + 5 exhibits a plethora of unique and versatile musicians who he's had the pleasure to work with for a few years. The set will feature a wide array of compositions by Nabaté, including a piece commissioned by the Festival of New Trumpet Music. Nabaté has performed and recorded with great artists including Mos Def, James Newton, Charli Persip, Steve Coleman, Ravi Coltrane, Lonnie Plaxico, Mike Longo, Oliver Lake, Christian McBride, Freda Payne, the Mingus Big Band, the José Limon Dance Company, and the Rochester Philharmonic Orchestra. He is currently an adjunct professor of Music Technology at Bloomfield College and trumpet instructor at Jazz at Lincoln Center's prestigious Middle School Jazz Academy.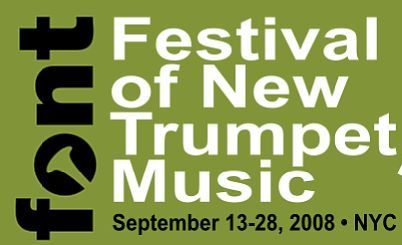 Phil Slater Quartet
Phil Slater is a trumpeter and composer based in Sydney, Australia. He is the leader or co-leader of several prominent Australian groups, including Band of Five Names and the Phil Slater Quartet. He has performed with various artists both in Australia and abroad, including Lou Reed, Bobby Previte, Jim Black, Barney McAll, Mike Nock, Missy Higgins, Karaikudi R. Mani, Paul Grabowsky and the Australian Art Orchestra. He has released two recordings as a leader: Strobe Coma Virgo (2002), and The Thousands (2007). Phil will be performing at Font 08 with Jim Black, Chris Tordini and Australian guitarist Carl Dewhurst.
John Carlson is a jazz trumpet soloist, composer and clinician. He has achieved national recognition through tours and recordings with Grammy-nominated Either Orchestra, the Charlie Kohlhase Quintet, the Machito Orchestra, the Palladium Orchestra, the Ken Shaphorst Ensemble and the David Berkman/John Carlson Duo. A member of the band Slavic Soul Party, John is also co-leader of Dharma Nau, Perfumed Scorpion and leads the group Free Range Rat.
John has been on over twenty national tours as well as in Canada, Europe, and Japan. As a recording artist, John has been a featured soloist on over thirty albums and has performed and/or recorded with numerous jazz artists including Bob Brookmeyer, Julius Hemphill, Sam Rivers, Chocolate Armeteros, John Tchicai, Dave Liebman, George Garzone, Tito Puente, Mike Stern, Cab Calloway, Burton Green, Butch Morris, Warren Smith, Billy Hart, Jay Rosen, Douglas Yates, Joanne Brackeen, Matt Wilson, Armen Donelian and John Medeski.
"John Carlson is a magnificent trumpeter, able to move with equal grace in the realms of both Clifford Brown and Michael Ray….he displays a great improvisational command." - Robert Spencer, Cadence Magazine
John Carlson's Buzz is a shared improvisational force that performs compositional material from the past to the present, original and otherwise.